It's USMNT team call-up time! Enjoy Joe Scally, America! We've some catching up to do over here on the profile website. Three full rounds to be precise. Our first re-post covers the double-feature installment from Pokal week posted over on Bulinews. Amid all of the colorful scenes in the Bundesrepublik, there was also plenty of room for the red, white, and blue.
Our first double-feature "Americans" column of the season assesses both round nine of the 2021/22 German Bundesliga along with round two of the DFB Pokal. Joe Scally, Tyler Adams, Chris Richards, and the league's two American trainers pulled double-duty this week and are thus assessed on two fixtures. John Anthony Brooks of eliminated VfL Wolfsburg serves as the one outlier graded on one match.
Other American footballers who's club no longer remain active in the country's domestic cup include Timothy Chandler of Eintracht Frankfurt and Julian Green/Timothy Tillman of SpVgg Greuther Fürth. As it turned out, these players didn't see any meaningful action last weekend either. Chandler–a subject of direct criticism by his trainer–did not make the Eintracht bench squad. Green remained on his team's bench whilst Tillman logged negligible minutes.
As a result of these developments, we've only six graded sections this week. There's nevertheless still plenty of action to cover from an exciting week of German football. Adams, Scally, and trainer Marsch earn "A-level" grades this time. Brooks, Richards, and trainer Matarazzo lie below, but no one dips below "C-level" in this installment.
---
Jesse Marsch, RasenBallSport Leipzig (Trainer)
---
Matches = 2, Results = W, W
Cumulative Grade = A
The "golden touch", as Germans like to call it, has the Wisconsin native slowly working his way out of the sensationalist pages of the German tabloids and into a more respectable anonymity. For the most part, German news sources also shrugged off the low scoreline in Tuesday's Pokal victory. This was done for good reason. Though the German Red Bulls only left Babelsberg with a 1-0 "eke-out" win, they remained a brutally dominant team throughout.
The weekend turnabout that saw RB score four unanswered second-half goals to avoid a disastrous upset by visiting Fürth being very old news at this point, all that remains is to draw up the contrast. Marsch unquestionably being very nice guy, he kept his promise to German winger/fullback Benjamin Henrichs and gave the 24-year-old a start.
Lineup—RB Leipzig—Match Nine (3-4-3)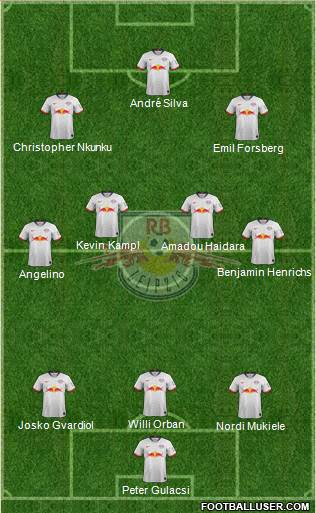 Honestly, there's no real point in giving the Saxons any benefit of the doubt here. This is how they played it, irrespective of what Marsch had in mind. Radical changes were needed after a totally broken first-half display. The American trainer did well not only to pull the plug on the Henrichs experiment, but also take out the much better performing Kevin Kampl in order to complete a full tactical re-format.
Lineup—RB Leipzig—46th minute (4-4-2)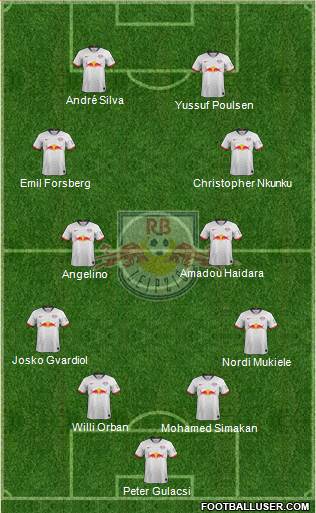 The wingers flipped. Yussuf Poulsen actually worked a nuanced separation from André Silva. As one can see, there was a slight rearward suppression for the Dane. Angelino and Josko Gvardiol kept an excellent rotation on the left. Not much more to say here other than the fact that everything worked.
Marsch decided to keep the 4-4-2–albeit with some several alterations–in place for the Pokal trip to the outskirts of Potsdam. The draw up of that constellation still belongs in a different section; the one to which we shall now turn.
---
Tyler Adams, RasenBallSport Leipzig
---
Matches played = 2/2, Matches started = 1/2
Minutes played = 113/180, Positions played = RW, RM
Cumulative Grade = A
In his 23 minutes of relief against Fürth, the RB New Yorker managed to rack up 28 touches and looked very solid slanted on the right-hand side of midfield. As has been emphasized a great deal over the past three seasons, Adams' greatest asset remains his field vision. It's very much worth watching him closely when he's in a good run of form. The 22-year-old intuitively sees the play develop ahead of him and almost always makes the right passing decisions.
From the observers vantage point, "field vision" happens to be less than great when watching certain German cup matches. Not much that can be done about this. The broadcast team can't set up the camera for a bird's eye view in tiny little hamlet stadiums that don't offer a high perspective. That needs to be stated before delving further into Adams' performance against Babelsberg in the Pokal. The perspective wasn't the best.
Lineup—RB Leipzig—DFB Pokal (4-4-2)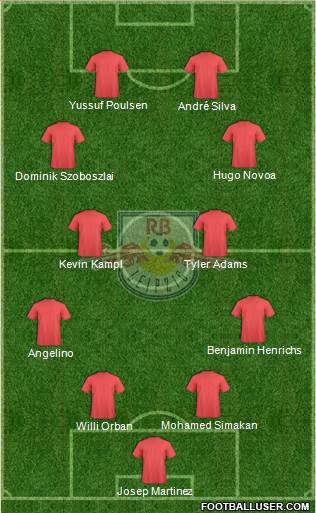 Well over half of the Leipzig attacks went up Adams' side. The American racked up well over 120 touches in the columnists' count. For whatever it's worth against a fourth-tier opponent, Adams did not lose a single duel on the evening. He hustled like made for the full 90 minutes, often let down by Henrichs, Kampl, Angelino, and even Szoboszlai when he fed them good verticals and cutbacks.
Had Yussuf Poulsen (20th, 49th), Hugo Novoa (29th, 70th), or Szoboszlai (47th, 59th) finished better, Adams could have easily had a hat trick of assists. He performed exceptionally well on both sides of the ball too. Great defensive work (15th, 22rd, 47th, 59th, 71st, 74th, and 85th) didn't diminish in spite of the fact that he really covered a lot of distance down the stretch.
In this writer's estimation, Adams was by far the best RB actor on the pitch. Everything is once again going pretty well for the RB New Yorker. After attaining "A-level" a couple of rounds back, he's back here again on the very next outing that falls under our scouting scope. His body language could not be more different that it was near the beginning of the season.
It's genuinely great to see what was the overall most impressive performer of the 2019/20 campaign back doing his thing.
---
Joe Scally, Borussia Mönchengladbach
---
Matches played = 2/2, Matches started = 2/2
Minutes played = 88/180, Positions played = RWB, LWB
Cumulative Grade = A-
Average days look to be a thing of the past for the CFG New Yorker. Those who love the Bundesliga find themselves hard pressed to recall a player who rose so quickly to function as such a vitally important part of his team. Scally enters Franck Ribery at Bayern in 2007 territory in that he suddenly so tremendously important on both sides of the pitch in the trainer's weekly match-plan.
Scally got a bit undercut in the weekend loss away at Hertha. For reasons unknown, BMG trainer Adi Hütter opted for a strange tactical re-format at the half. Our American subject here didn't have the strongest opening 45 after duel losses in the 1st, 13th, and 29th. He also got caught engaging in simulation in the 7th and 36th.
Those instances aside, Scally still dazzled with wondrous moves in the 13th, 17th, 18th, 23rd and 26th. He single-handedly stopped Hertha from scoring a second goal at 45+3. There would be no further dazzling and practically no noteworthy action for the American when Hütter rolled this out after the restart:
Lineup—Borussia Mönchengladbach—46th minute (3-3-2-1-1)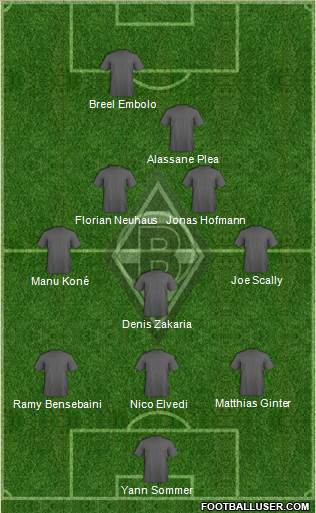 As touched upon in the tactics column, Breel Embolo and Alassane Plea summarily failed to get themselves sorted out. Pulled inward into a crowded cluster, Scally encountered difficulty executing give-and-gos with his colleagues. The American recorded an astounding ten stray passes in the first 22 minutes of the second half. He also went to ground far too easily in the 52nd in another attempt to draw a foul.
Hütter employed his normal tactical adjustment in the 74th. Scally shifted left while Patrick Herrmann took over on the right. This led to improved play down the stretch. The CFG New Yorker switch-crossed and held the ball up much more comfortably, though his team still lost the match. A "C+" level performance quickly got erased in the DFB-Pokal 5-0 over Bayern romp.
The columnist did call it in the tactics column. No one will recall the Hertha loss now. Absolutely no one.
Lineup—Borussia Mönchengladbach—DFB Pokal (3-4-3)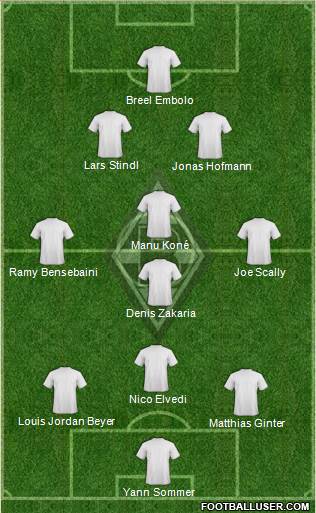 A wide midfield diamond played it's role in the Bayern demolition. So did incredibly sloppy play from Alphonso Davies, Joshua Kimmich, Leon Goretzka, and every last player in the Bayern back-four. We don't truly need to spend too much time on this match. It was all over with fairly quickly. Scally shined along with the rest of the Fohlen as they fearlessly took the record champions by the scruff of the neck and bashed their heads in by the time we arrived at the 21st minute mark.
Scally's switch to Embolo on the second Gladbach goal (15th minute) kick started the play that proved a dagger to the FCB's collective heart. When the NRW hosts received a penalty some six minutes later, everyone on the Fohlenelf essentially got to free-wheel for the rest of the match. Flicks and tricks characterized the show from there on out. Scally earned an "A+" along with 80 percent of the rest of the team.
In just his second subbing off of the entire campaign, Hütter ensured that our American subject here earned a round of applause after an early night. It's getting a bit ridiculous for young Joe Scally. He's attained "A-level" for the fifth consecutive column. One starts to wonder if he'll ever turn in that average day he's long overdue for.
---
John Anthony Brooks, VfL Wolfsburg
---
Matches played = 1/1, Matches started = 1/1
Minutes played = 88/90, Positions played = CB
Cumulative Grade = B-
The more one considers Mark van Bommel's final set of tactics against Freiburg on Saturday, the more one becomes convinced that Jörg Schmadtke had no other option other that to park company with a trainer who had lost control of his team. That, at least, is how one felt re-watching the 4-1-2-3 fall apart at the beginning of the week. When word came that Schmadtke opted to bring in Florian Kohfeldt as his new trainer on Tuesday, one then began to wonder if the executive once heralded as the league's best administrator was actually off his rocker. Eh, what?
Alas, a writer forced to watch nearly ever sorry Werder Bremen fixture last season (and the season before that!) in order to keep tabs on Josh Sargent for this column digresses. A chronicler obviously requires no sympathy for choosing to engage in self-torture. Merely be advised that more cantankerously grouchy rants may be forthcoming. A looming sense of dread may also this week's J.A. Brooks grade, which sits high above the marks given to the U.S. international in the German press.
The Berliner had a very active day during which he racked up 74 touches, played 65 passes, and even directed two headers on target. There were some defensive lapses from Brooks (21st, 25th, 44th, 67th, 73rd), whom we would later learn was playing hurt. Bearing that in mind, his involvement on offensive sequences (5th, 11th, 35th, 53rd, 56th, 69th, and 81st) were all that more impressive. The two headed shots (63rd and 71st) weren't off by much. He displayed quite a bit of fight down the stretch.
After taking a couple of days, Brooks was back on the training pitch yesterday. There being no real reason why Brooks should lose his starting position to Sebastiaan Bornauw at this point, one can assume that his current form remains strong enough to supply us with a few very strong performances in the coming weeks. Florian Kohfeldt also takes over the squad with a Xaver Schlager comeback not far off. With the crucial midfield cog returning, team and player appear on the cusp of better days.
---
Chris Richards, TSG 1899 Hoffenheim
---
Matches played = 2/2, Matches started = 2/2
Minutes played = 180/180, Positions played = CB
Cumulative Grade = C+
The Alabama native certainly turned in reliably above-average days in both of his fixtures. The fate of the team swung wildly. From the 0-4 loss to Bayern in the league on Saturday to the 5-1 battering of Holstein Kiel in the cup, the Sinsheimers went from trough to peak fairly quickly. As talked about in greater depth in the latest tactics talk column, the Bayern scoreline proved misleading in a number of respects.
The German Champions, who traversed their own wild fluctuations this past week, only ran up the score in the final ten minutes. In the case of this American, there were a whole myriad of instances (2nd, 8th, 16th, 32nd, 46th, 53rd, 81st) in which he was made out to look far worse than he actually was. There was some legitimately bad defensive work (7th, 24th, 37th, 43rd, 79th) as well, but this wasn't nearly as frequent.
To take the most illustrative example of how this American could have been unfairly graded poorly, one can take a look at Lewandowski's second FCB goal at the half-hour-mark. Everyone should take a look at this thoroughly remarkable goal anyway. Richards can be found directly marking Thomas Müller prior to the tally. Müller somehow managed to touch back to the Polish super-striker even though Richards had him perfectly boxed-out.
Superhuman stuff. One observed several more examples of that on Saturday. The third and fourth Bayern goals fall into that category as well. The last league encounter furnished an awful lot of "Honestly, what the hell was the kid supposed to do?" moments. A commonplace occurrence when defenders face Bayern.
In any event, an exceptionally strong day with respect to passing (12th, 17th, 18th, 19th, 20th, 38th, 50th, 52nd, 55th, 65th) and individual duels (11th, 15th, 28th, 47th, 48th, 75th) placed him well above average in the Bayern loss. The Pokal win ended up surprisingly weighing down this American's grade. Again, Richards was not bad. Merely a bit anonymous and error prone when the play came his way.
Lineup—TSG Hoffenheim—DFB Pokal (5-3-2)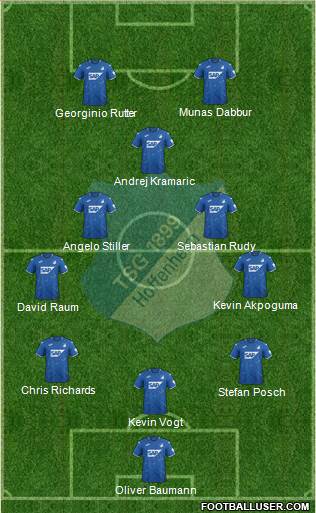 A little bit of a different set-up forced Kevin Vogt to run an inverted pivot in Florian Grillitsch's absence. Richards garnered just 47 touches on the day. Being stationed behind the roaming David Raum obviously contributed to this. One also must take into account that opponents Kiel brought a miserable game down to Kraichgau on this particular day. Richards truthfully saw almost zero defensive action on his side.
Deprived of the chance to do what could be described as "his thing" (calmly collecting the ball and reseting the attack), Richards got his some more forward involvement on the rush in. Positive examples can be found in the 7th, 16th, 39th, 43rd, and 84th. The best example of box marking came in the 20th, the best aerial win in the 69th, and the best vertical in the 71st.
The American still recorded 11 wayward passes in the match and looked more suspect defensively in the 9th, 34th, 39th, and 67th. Richards was neither directly involved in any of the Hoffenheim tallies nor was he at fault for the one Kiel goal. One just expected a bit more from him in the Pokal fixture. Taken together, a "B-" and a "C" average out to a "C+".
---
Pellegrino Matarazzo, VfB Stuttgart (Trainer)
---
Matches = 2, Results = D, L
Cumulative Grade = C-
Entertainment-wise, it wouldn't be fair to say that either Stuttgart match delivered this week. The 1-1 draw with 1. FC Union Berlin on Sunday never really settled into a flow. The first-half of the DFB-Pokal fixture against Köln counted as one of those agonizingly listless affairs that left one hopelessly shouting at the actors on the field to (for the love of all that is holy), "Please do something!". The manner in which Pellegrino Matarazzo continues to grapple with his deep personnel issues nevertheless continues to supply some intrigue.
The team-sheet on Sunday left one expecting that Borna Sosa and Tanguy Coulibaly would work the famous "split stagger" on the flanks. Whether by design or failed execution, it didn't quite shake out this way. The Croatian "slingshot" left-back noticeably worked his own individual axis. Captain Wataru Endo had an advanced guard assignment close to tyro Nikolas Nartey. The back-three appeared very flat, with Atakan Karazor always remaining ahead central.
Lineup—VfB Stuttgart—Match Nine (4-1-2-3)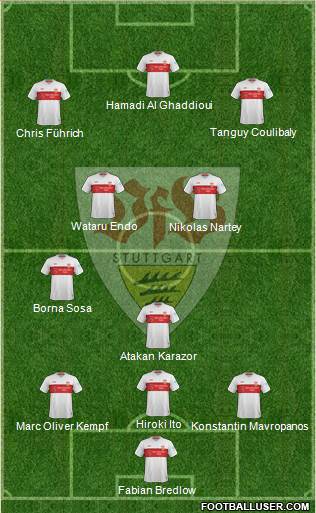 This didn't stand much of a chance against Urs Fischer's 3-5-2 double stack. Defensively, it held the two top Berliner attacking axes by a hair. After the visiting Eisernen finally finished off an opportunity shortly after the half-hour mark, Endo at least tried to make some things happen with a pair of distance efforts. The three attackers ahead of the captain barely saw anything of the ball.
We accorded Matarazzo some credit in the tactics column for responding to Atakan Karazor's sending off early in the second half with what was a brave constellation. The man we like to call "the math-e-magician" didn't shirk away from a chance to get the equalizer by huddling everyone back behind the halfway line. Even after five substitutions, the Swabians still lined up in an ambitious constellation capable of plucking a goal.
Lineup—VfB Stuttgart—83rd minute (3-1-2-3)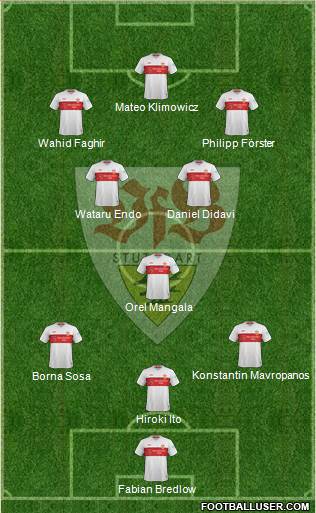 With a pretty hefty stroke of good fortune, they got one. After a second 45 characterized by very unsound technical play, Daniel Didavi pushed forward and located Wahid Faghir in space. The young Danish phenom decided to simply let one fly. Faghir very much deserved to keep his name on the tally, despite the fact that it did deflect in off Timo Baumgartl. Our American trainer here can also feel as if a draw was earned.
It could have easily been another "A-level" week for the Colombia University man, but what we witnessed during the Pokal match simply wasn't inspired at all. A back-five was supposed to make the "split-stagger" viable again and the US head-coach thought it worthwhile to see if Mateo Klimowicz could carry some drive over to lead the attack.
Nothing worked in this case.
Lineup—VfB Stuttgart—DFB Pokal (5-4-1)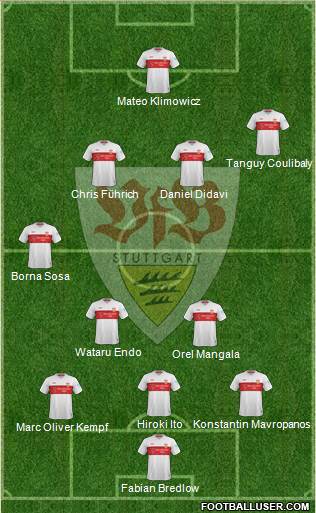 It wasn't the worst effort from the hosting Swabian XI in terms of possession. Everything nevertheless remained turgid as the back-five actors cycled possession among themselves. A tightly chained set among the back two rows often leads to this. No one really needs to want to keep the ball when there's a bloated set of options on the cycle.
What impetus forward we did witness during the opening stages of the second half served to underline that Matarazzo had the wrong selection in place. Klimowicz and Didavi were way off the mark with their efforts. Both of them probably should have been pulled at the half. True, the VfB trainer doesn't have a deep bench at the moment. Faghir could have still been brought on earlier than the 62nd.
An early Pokal exit certainly isn't the end of the world. Moreover, it's worth noting yet again that it's been very impressive how this American has steered his team through this a very difficult phase of roster depletion. As some more injuries clear, the Württembergers should finish the "Hin-runde" strongly and we'll definitely be talking European contention come spring. Either that, or there shall be more bitterness within low graded sections.
Thanks so much for reading! You can occasionally catch Peter goofing off while watching the lower German football divisions on twitter, @ViceytheSS.
Twitter DMs are open for football conversations, corrections, and (if you truly insist) general abuse. 
All columns debut on Bulinews before appearing on Peter's website later in the week.