The final installment of the "Americans" column for calendar year 2022 covered the final three rounds of the 2022/23 German Bundesliga prior to the World Cup break. Just like in the three prior existing years of this feature, some concluding thoughts on the form-state of the U.S. actors of Germany's top footballing flight were also offered. From where we were to where we're headed, the deep-scout column is all caught up!
As is always the case with our deep-scout column in German football's "English weeks", the Bulinews "Americans in the Bundesliga" feature handles its bit of catching up when it comes to performance ratings in the fixture-laden times. A comprehensive review of the form of two USMNT World Cup bound players (Gio Reyna and Joe Scally) and Union Berlin's Jordan Pefok thus includes rounds 13, 14, and 15 of the 2022/23 German Bundesliga.
In the four years of this column's existence, there has always been a special report to conclude the calendar year. The turn of the calendar year serves as an opportunity to select the best American performer from the first half of the Bundesliga season. Former VfL Wolfsburg center-halve John Anthony Brooks took this honor both in 2019 and the first such edition of this column to appear on Bulinews in 2020. Playing for TSG 1899 Hoffenheim last year, Chris Richards was selected for the 2021 version.
A flurry of outgoing transfers this past summer leaves us with a much smaller pool this time. We will only be catching up with the latest form of three players here, adding some thoughts on the future prospects of VfL Wolfsburg's Kevin Paredes and Hoffenheim's Justin Che at the very end of the installment. Bearing the reduced field in mind, Scally unequivocally deserves the title this year. The league's lone entrenched club starter didn't really have much competition, but has largely performed at a high level.
---
Joe Scally, Borussia Mönchengladbach
---
Matches played = 3/3, Matches started = 3/3
Minutes played = 260/270, Positions played = RB
Cumulative Grade = B-
Scally started all three fixtures for his club team in the final week of league action, turning in serviceable enough performances in two wins against Stuttgart and Dortmund in addition to the midweek loss against Bochum. In none of the three instances did he manage to involve himself offensively much. The Long Island native didn't register a single shot on target or even assist on an effort in any of his three deployments.
BMG trainer Daniel Farke's tactics remained the same in all three matches. A 4-2-3-1 remained in place with the roughly the same personnel occupying the positions throughout. Tony Jantschke made way for the returning Nico Elvedi after the matchday 13 win over Stuttgart. Lars Stindl filled in for Alassane Plea on the right flank when an injury forced the Frenchman to miss out on the matchday 15 Friday night fixture against Dortmund.
Lineup—Borussia Mönchengladbach—Match 13 (4-2-3-1)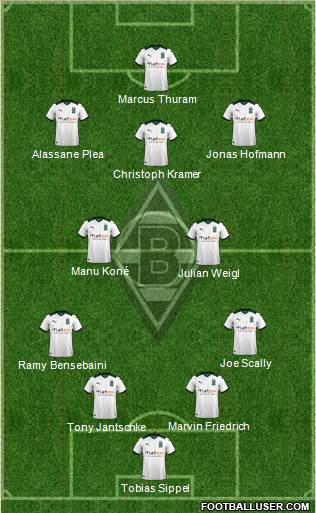 Scally did relatively well in the 3-1 home victory over Michael Wimmer's Swabians. Passing and duel rates both exceeded 75 percent. His best ground tackles and aerial wins came in the 5th, 27th, 31st, 33rd, 42nd, 45th, 47th, 54th, 63rd, 67th, and 85th. Even though his direct offensive involvement remained minimal, there were some good forward touches from the CFG New Yorker as roughly 60 percent of the BMG attacks ran down his right-hand-side.
Three quality runs forward can be found in the 21st, 23rd, and 25th. In the final case, Scally put in some nice work on the stupendous team piece of attacking play that ultimately led to Marcus Thuram's 2-0 tally. In the 28th, the American beat out VfB keeper Florian Müller to a ball and there were some legitimate appeals for a penalty. More useful passing work on bow-arcs, triangulations, and cycle give-and-gos came in the 30th, 49th, 65th, 83rd, and 85th.
Unfortunately, there were a few nervy moments for our subject here during his round 13 encounter. Two potentially dangerous ball losses occurred in the opening minute. Misplaced passes, subpar clearances, turnovers in the 6th, 8th, 45+2, 50th, 52nd, 53rd, 58th, 59th, and 81st could have left him culpable on significant Stuttgart chances. Slips in the 7th, 11th, and 23rd, along with slack marks in the 11th, 37th, 41st, 70th, ad 75th luckily went unpunished.
Scally shouldered some responsibility for Tiago Tomas' tally in the 35th. As a result, his grade in the first match takes a direct dock. As we move forward to the Bochum fixture, there's another early case in which our subject here failed in his defensive duties. Scally kept Christopher Antwi-Adjei onside with an inattentive mark on the VfL's opening goal in the 6th. Other poor marks on the Bochum winger came in the 14th, 47th, 51st, and 65th.
Nervy touches, missed challenges, ball losses over the course of the midweek fixture cropped up in the 9th, 16th, 17th, 30th, 50th, 58th, 70th, 72nd and 77th. There were nevertheless some unexpected gems to unearth during a game from which Scally drew some unfairly poor marks in the German press. Incisive through balls and sharp touches can be located in the 4th, 15th, 29th, 40th, 48th, 74th, 77th, 79th, and 80th.
Great direct duel wins came in the 25th, 33rd, 61st, 63rd, 67th, 68th, 69th, and 78th. An excellent run and cross into the box in the 36th led to  massive scoring chance that could have altered the outcome of the game. The CFG New Yorker parlayed some of his strong play in the second fixture into a very strong overall performance in his side's 4-2 victory over Dortmund.
Scally and axial partner Ramy Bensebaini both turned in top-notch performances. Though there were some cases of suspect defending (16th, 19th, 34th, 37th, 43rd, 45th, 49th, 62nd, 71st), nothing terribly egregious took place. The American, along with the rest of his teammates, failed to pick up Julian Brandt on the German national team attacker's fine technical goal in the 19th.
Apart from that and a few stray passes early and late (3rd, 5th, 60th, 74th, 76th), one witnessed consistently strong play from this American in his last club match. There's some genuinely exceptional defensive play on display in the 1st, 10th, 30th, 32nd, 48th, 51st, 58th, 63rd, 64th, 87th, and 89th.
Scally played an important role in the sequence leading up to Manu Kouadio Koné's crucial match sealing goal in the 46th. More exemplary forward play can be found in the 7th, 12th, 25th, 33rd, 45+1, 53rd, 61st, 77th, and 88th. Taking this whole surfeit of material into account, Scally definitely still belongs on "B-Level" form heading into the World Cup.
2022's Concluding Thoughts: 
Despite some discouragingly weak performances over the course of this season's opening 15 rounds, Scally's overall level should be considered more stabile that it was at this juncture last season. Talk of the teenager being replaced by Stefan Lainer shall persist throughout the course of this campaign, but it doesn't look to be the case that our subject here will be benched as he was under previous trainer Adi Hütter last time.
Emphasizing again that we've a much smaller pool to assess than in the three other years in the life of this column, the Long Island native's status as our best 2022 performer is very much deserved. The thrice-capped USMNT international isn't quite ready to assume a starting place for country at this stage in his career. Considering where he is at such a young age still leaves Bundesliga lovers and American football enthusiasts with quite a lot to look forward to.
German league watchers can hardly wait to see him back in action.
---
Giovanni Reyna, Borussia Dortmund
---
Matches played = 3/3, Matches started = 2/3
Minutes played = 141/270, Positions played = RW/LW
Cumulative Grade = D+
Comprehensive coverage of Gio's league performances both in the round 13 and round 14 tactics bulletin means that we've only one match to catch up on insofar as Reyna's scouting is concerned. Before getting to a less than stellar first half that saw him yanked ahead of the second 45 against Gladbach, a few words about the first two fixtures are in order.
The young phenom's converted penalty in the 3-0 win over Bochum gave Reyna his second league tally of the campaign. As happy as we all were to see that, the level-of-play still came in just below average. Gio only proved a factor offensively in a few scant instances. While his touch seemed largely fine, passing and duel rates (hovering around 60 percent) weren't especially convincing.
When it came to this American's relief shift against Wolfsburg in the midweek fixture, there truly isn't much positive to report on. The 29 minutes for which Gio featured also featured plenty of mistakes. All the hallmarks of an impending form dip were apparent, particularly as pertained to Reyna's touch and body language on direct duels.
Sadly, this manifested itself further in the loss to Gladbach. Gio couldn't really locate the means to compete on challenges, winning just under a third of them. Attacking play similarly seemed off. None of Reyna's three shots proved dangerous. It took the teenager until the very end of the half to wake up properly. This wasn't enough for BVB trainer Edin Terzic to keep him on.
Lineup—Borussia Dortmund—Match 15 (4-4-2)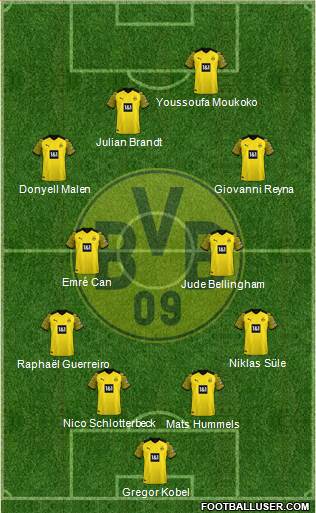 Gio flashed a poor header over in the 3rd and could only manage a weak efforts on target in the 32nd and 34th. The above-mentioned quality piece of offensive play came in the 43rd, when he made a very nice move and set-up Donyell Malen on the break. Otherwise, there were only a couple of other sharp touches. Even in such cases (9th and 35th), poor passes followed.
Reyna appeared very timid in his positioning in the 6th, 8th, 12th, and 34th. He ended up losing the ball in the 22nd, 29th, 37th, and 41st. Terzic had little choice but to get him off for his own sake. Nothing good would have come from allowing him to play on as there was clearly something mental going on.
2022's Concluding Thoughts: 
Gio's form swoon likely has no real bearing on what one can expect from him at the World Cup. At the very least, one assumes that the highly talented teenager can simply place it all behind him and accept the entirely different context for what it is. Though it remains apparent to Bundesliga watchers that Reyna's injury-riddled 2021/22 campaign still affects him in the league, he can still thrive in a wholly different setting.
The BVB coaching staff have done well to take it a bit slower with this über-talented prospect and he has demonstrated some flashes of what his natural talent leaves him capable of during this first phase of the current Bundesliga season. The columnist, like every other German football lover, must nevertheless cop to some bias. We all want to see Gio succeed so badly. Accordingly, we might overvalue him a tad.
---
Jordan Siebatcheu, 1. FC Union Berlin
---
Matches played = 2/3, Matches started = 1/3
Minutes played = 66/270, Positions played = 270
Cumulative Grade = D-
Fairly huge news on this player's front. Few will have been surprised to see Jordan not factor into Gregg Berhalter's USMNT World Cup plans. Those not keeping close tabs on German football may be surprised to learn that, for the time being at least, the 26-year-old has lost his starting spot in FCU trainer Urs Fischer's XI.
A meek performance in the 0-5 loss to Leverkusen cost the D.C. native his starting slot. Kevin Behrens got the nod over our subject here in Union's 2-2 draw with Augsburg while Sven Michel started alongside Sheraldo Becker in the 1-4 defeat against Freiburg. Jordan didn't even feature off the bench in the latter match.
Here's why:
Lineup—FC Union Berlin—Match 13 (3-5-2)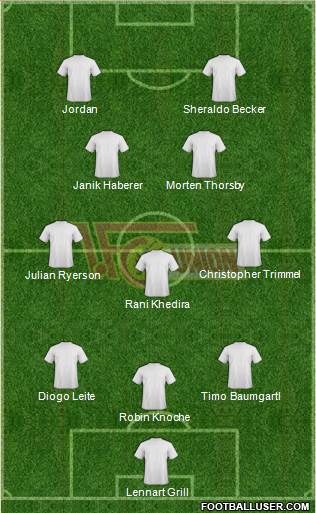 As always, there's nothing new to report tactically from Fischer. Only one assisted shot from the squad's supposed lead-striker in his 59 minutes of service in the blow-out. He got beaten rather badly both in the air (1st, 4th, 15th, 17th, 22nd, 25th, 32nd, 54th) and on the ground (7th, 21st, 38th, 48th, 51st, 52nd) all afternoon. Two offensive fouls (9th and 26th, booked) likely contributed to Fischer's decision to pull him.
Instances during which Jordan was able to pull off some nice flick-ons and forward touches (2nd, 5th, 10th, 12th, 20th, 21st, 27th, 29th, 39th, 42nd, 45th, 53rd, 54th) weren't exactly few and far between. This American had his moments. In far too many cases, however, the aerial wins, heels and throughs went in no one's direction. Becker and Jordan simply weren't on the same page.
The fact that Fischer didn't even turn to him until the final seven minutes of the Augsburg fixture indicated that his coach didn't maintain any sort of confidence in him in his current form. It came as no surprise at all to see him sit unused on the bench during the final match. Our subject here isn't reading the game well at this particular moment.
2022's Concluding Thoughts: 
Four goals and four assist across all competitions don't constitute awful production numbers for the former Swiss league star in his first days in a Bundesliga tricot. One must note that Jordan's last league goal came against Wolfsburg in round seven. He also hasn't registered an assist since the round ten win over Dortmund. Some minor injury issues contributed to this drop off.
January shall bring with it a new beginning. This American remains the preferred choice of this club when it comes to Becker's striking partner. Behrens and Michel, as good as they have been, don't possess the natural prowess that Jordan has. It stands to reason that he should get plenty of more opportunities to rectify matters before this campaign is out.
---
Kevin Paredes, VfL Wolfsburg
---
2022's Concluding Thoughts:
The 19-year-old lamentably saw his ringing endorsement from VfL trainer Niko Kovac followed up by a very subpar performance in his first Bundesliga start. After that, an injury forced him to bow out for the duration of league play. Whether Paredes can compete with the likes of Patrick Wimmer and Jakub Kaminski for a starting slot on the wings remains to be seen.
Josip Brekalo, Ridle Baku, and even Mattias Svanberg can also end up pushing him further down the depth chart. We may not see this American earn more than a couple more starts this year. One can likely still look forward to seeing Kovac turn to him off the bench provided his fitness holds up. Six league relief appearances thus far this year for this player, most all of which were quite eye-catching.
---
Justin Che, TSG 1899 Hoffenheim
---
2022's Concluding Thoughts: 
In the event that anyone is wondering what happened to the FC Dallas product, he has spent the entire opening phase of this season on the TSG II squad. Kraichgauer trainer André Breitenreiter hasn't found the need to call him up for the bench even when other members of his defensive corps, notably Stanley Nsoki, Kevin Akpoguma, and Kevin Vogt, have been slumping.
At this point, it might be the case that Che's MLS side opts to pull the rip cord on his extended loan. The 18-year-old isn't due back across the pond until the end of the season and the Texas club has surely given up on earning some money on his built-in purchase clause. Some more specific information as to why Che hasn't factored into Breitenreiter's plans isn't available at this point.
Thanks so much for reading! You can occasionally catch Peter goofing off while watching non-Bundesliga football on twitter, @ViceytheSS.
Twitter DMs are open for football conversations, corrections, and (if you truly insist) general abuse. 
All columns debut on Bulinews before appearing on Peter's website as the season progresses.