The new season is nigh! At long last, it's time to stop the speculation and settle in for all the great action on the pitch. An intense final stage of the offseason finally draws to a close. Loads of grueling prep-work, and not just for this writer. All the lads at Bulinews put a great deal of legwork into their pre-season previews this year. Be sure to check out all the quality prelim content over on the main site.
As for the columns your friendly "Vicey" happens to be responsible for, we've one last re-post to share here on the auxiliary portfolio. As promised, here's the full look ahead at all the American actors we'll be covering during the 2021/22 Bundesliga campaign. Los geht's, Jungs!
---
Introduction: The "New Cast"
---
The welcoming section stands six players (and one trainer) strong this year! From a German perspective, it's a highly enticing class that slays the concern that the valued era of dual heritage players fades away. We'll be talking about three sons sired by U.S. Servicemen–Maurice Malone, Timothy Tillman, and Julian Green–in this portion of the column. All the loveliness of "transatlantic-partnership-football" lives on!
We'll also address the kid who has all the German football circles abuzz (Joe Scally), check in on the gaffer who just might take the league (Jesse Marsch), tease the next newcomer (Caden Clark), and–to begin–re-visit a sleeper who might be capable of furnishing a surprise. A defender some may not have heard of kicks things off.
---
Lennard Maloney, Borussia Dortmund (CB)
---
We led last year's column with this Berlin native. The now 21-year-old center halve comes off a successful 2020/21 season with the promoted BVB II. Maloney made 32 starts for the Dortmund reserves in the Regionalliga West and now, surprisingly, looks to remain on head-coach Marco Rose's senior-side roster entering the season. The Schwarzgelben begin the campaign with depth issues in central defense. This serves as the primary reason the club wishes to keep him on call.
It came as a surprise to see a large German club snatch Maloney up last summer. Unable to break into Union trainer Urs Fischer's bench squad in 2019, the youngster's hometown club encountered difficulty finding a club that would accept him on loan. Eventually, die Eisernen were able to locate Chemnitzer FC as a taker during the January 2020. Maloney only made eight appearances for the third division side. Union quite offloaded him to Dortmund after the 2019/20 season concluded.
We are dealing with a dual-heritage player here, but the DFB showed little interest in him after two of youth squad call-ups. When the USA developmental program came calling in 2018, Maloney saw his path. He has since publicly expressed the desire to play for the country of his father. Most USA enthusiasts can be forgiven for never hearing about him as he's only been capped twice for the USMNT U20s in a pair of exhibition matches.
2021/22 Campaign Prospects
On the BVB senior team as an emergency option, one doesn't truly expect Maloney to see any minutes soon. Dortmund will almost certainly either purchase or obtain another center back on loan. The fact that this American got in some significant practice in last year nevertheless means he's on the radar of other clubs. An ideal solution for the youngster would see him loaned out to a second or third tier side this year. He won't be able to make much of an impression riding Rose's bench.
---
Maurice Malone, FC Augsburg (CF)
---
Another dual-heritage player. Malone's youth international career already features 15 appearances for Germany. One surmises that he leans toward the land of his birth. Naturally, one never truly knows when covering a young player with a long career ahead of him. If the USA can pinch him with the promise of playing time, he could be persuaded to play for the land of his heritage.
Malone returns to Bavaria after spending last season on loan with SV Wehen Wiesbaden in the third division. He actually put together a notable campaign in Hessen, scoring 12 goals and registering 9 assists. Late last month, the local Augsburger Allgemeine Zeitung reported that sources within the club were very pleased with the 20-year-old's progress and fully intended to keep him on the senior roster.
The German-American played the last 13 minutes in the Fuggerstädter's DFB victory over Greifswalder FC.
2021/22 Campaign Prospects
The youngster will get minutes. He may even obtain some starts. As the club's preparation phase makes evident, Alfred Finnbogason and Florian Niederlechner are both proving themselves injury-prone again this year. Whether or not Malone counts as a potential USMNT call-up is another matter. We'll continue to cover him as such until he makes a firm public commitment or disavowal. For now, one assumes he can be plied.
Some may be interested to know that, currently, three other footballers in Germany's top flight declined their US eligibility. Bundesliga Players who possess a US passport yet remain firmly committed to other countries include Thomas Delaney (Denmark), Julian Ryerson (Norway), and Alphonso Davies (Canada).
---
Caden Clark, RasenBallSport Leipzig (ATTM)
---
It can't hurt to include a little "teaser trailer", just as we did with Joe Scally last year. One will have to wait until the second half of the season to see this American join his new German club. The 18-year-old makes a lateral move from RB New York after some personal recruiting efforts last winter. Clark has tallied four times and garnered three assists in 13 appearances (12 starts) for club in the current MLS campaign. The Minnesota native will complete the MLS season, which looks to end for his non-playoff eligible club on November 19th.
---
Joe Scally, Borussia Mönchengladbach (RB)
---
Speaking of Joe Scally, it's time to discuss a tipped breakthrough candidate. Just as expected, he got the start filling in for Ramy Bensebaini in Gladbach's Monday evening Pokal fixture. The makeshift left-back provided a positive influence in the sequence that led to Lars Stindl's, though one won't find his name on the scoresheet. This proved sufficient for most German football writers, who are now pleased to be afflicted with "Scally Fever". The American teenager's name gets traded often in German footballing circles.
Lineup—Borussia Mönchengladbach—DFB Pokal (4-2-3-1)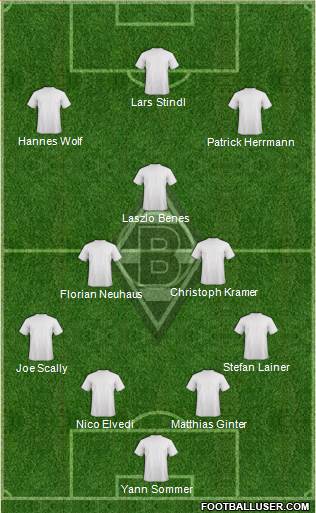 A nice, evenly-balanced footballing dance Monday night on Kaiserslautern's Betzenberg Hill. We learned that new foals head-coach Adi Hütter plans no major tactical upheaval. A double-six set-up remains in place. There does exist a notable gap between the two German national team midfielders and the top attacking axis. This served as the primary reason die Fohlen were unable to generate many quality scoring chances. Apart from an effort shortly before the half, one literally forgot Laszlo Benes was on the pitch at all.
A fair grade for Scally in this case would be a "B". He could have worked a few more overlaps when Lautern accorded him the space. His comprehension of sharp passing lanes appeared above average. Awareness on duels seemed sharp, exception of course on the unfocused foul that led to a late booking. Difficult to dock him too much for that considering the entire team downshifted after the hour mark. Everyone looked a bit checked out.
Early Tactical Prognosis
For Scally, it's a simple matter of the depth chart. The latest word on Bensebaini is that he's still not an option for Friday's match. This means that American footballing enthusiasts can check out Scally again on Friday evening when Bayern and Gladbach officially open the campaign. Scally receives another opportunity to showcase himself; a big one when takes factors the Benjamin Pavard injury into account. He'll face a counterpart on a cold start.
All of this notwithstanding, it's not likely that Scally will immediately dispose either Bensebaini or Stefan Lainer on the defensive flanks. Assuming both players can remain healthy, neither one possesses a market value anywhere near the value they have for this squad. Max Eberl won't be looking to shop his fullbacks. It's probably also too risky to loan out Scally so soon as he might take to his new destination. The fever-pitch excitement about this player aside, one can forecast may a ten-start-season.
---
Jesse Marsch, RasenBallSport Leipzig (Trainer)
---
The Bundesliga's second-ever American trainer unequivocally doesn't carry a name that rolls off the tongue as sweetly as "Pellegrino Matarazzo". He does nevertheless carry a team quite capable of capturing the Meisterschale. Most German football watchers find themselves in full agreement with Lothar Matthäus. The German Red Bulls maintain a much deeper squad than Bayern. Anyone who took the time to sit down and attempt to project a lineup discovered this immediately.
Uh-oh. Much to our personal chagrin, the "Marketingklub" proves a ghastly beast indeed. Scary stuff all around. The 47-year-old debuted with a very subdued set of tactics in the Pokal and it left the opponent (SV Sanhausen albeit) with absolutely no chance at all. Almost no observable rotations here. Everyone remained in place.
Lineup—RB Leipzig—DFB Pokal (4-2-4)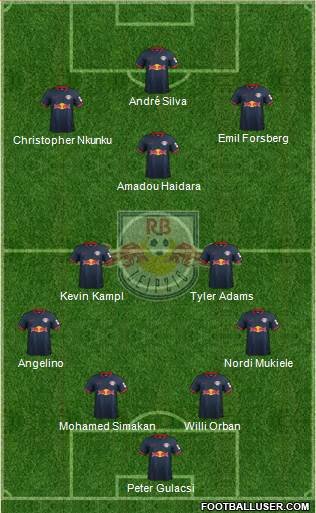 It took a little under 15 minutes for this to start to look dangerous in open play. Kevin Kampl and Tyler Adams held a low block to keep their 2. Bundesliga hosts pinned back in their own half. Eventually, the 4-2-4 began to flow after Leipzig took the lead on a well-organized set-piece. One saw how vicious it can be on the counter when Amadou Haidara doubled the advantage just before half-time.
Play loosened up after the break and RB scored two more. The positioning nevertheless remained rather rigid. One certainly notices that this team is in very different hands than that of Julian Nagelsmann. This could work to their advantage. Some simpler directives will ward off fatigue and mental overload down the season's stretch run.
Early Tactical Prognosis
We'll see plenty of personnel shifts. It's worth noting that the far-too-long-awaited Dominik Szoboszlai netted his maiden goal in competitive German football late on. Marsch, unlike Nagelsmann, can count on both the Hungarian and Austrian midfield behemoth Konrad Laimer to be available for selection. This isn't the side's strongest lineup by far. Dani Olmo still takes some recovery time from the Olympics. Marcel Sabitzer sits out with muscular problems. Brian Brobbey will demand starts.
It's possible to look at Marsch's–publicly acknowledged–embarrassment of riches as a challenge. One could also view the insane squad depth as something the RB-system man would have to work terribly hard to deliberately mess up. A reasonable conjecture holds that the low-block 4-2-4 might serve as the Champions' League template while the projected 4-2-2-2 forms the basis of league matches. Alexander Sørloth remains the odd man out. Both constellations can function with or without Marcel Sabitzer.
---
Timothy Tillman, SpVgg Greuther Fürth (ATTM)
---
State-side Bundesliga watchers should expect to hear quite a bit about Fürth this year. ESPN shall milk the two Americans playing for this team for all that they're worth. The US Cable Sports giant has little choice after purchasing the rights to the Bundesliga at such high rates, then getting promoted Fürth and Bochum in their second season of coverage. The Kleeblätter remain worth a look. Be advised, however, that–as emphasized in our preview section on the team–we could be in for some horribly boring ultra-defensive football.
Hopefully what we witnessed in the Pokal won't be a harbinger of things to come. Our first American got the surprise slot in at the ten-spot. Having to deal with a slew of injuries, trainer Stefan Leitl put some extra pressure on the hometown boy. To the eyes of this columnist, Timothy Tillman didn't put in an overtly bad shift. In light of the fact that it was ultimately his responsibility to create chances in the attacking third, however, some of the blame for the cup defeat must fall on his shoulders.
Lineup—Greuther Fürth—DFB Pokal (5-2-3)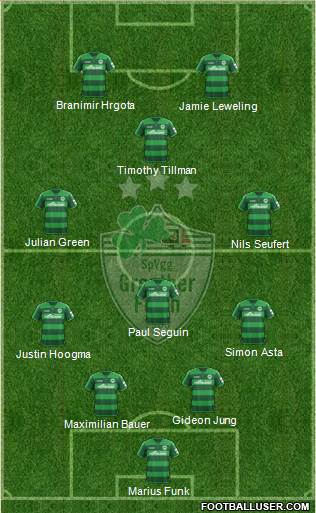 Attractive football on display against Babelsberg. Simply not clinical enough. The Middle Franconians fell to the pro-am Potsdamers on penalties after a match in which they racked up a large statistical advantage in most every category. One had the sense that Tillman and fellow German-American heritage player Julian Green would have done better to switch positions. In point of fact this is actually advocated in the preview section as a result of reviewing this fixture.
Defensive lapses were more to blame for what might prove a costly (€250,000) cup exit for the newly promoted club. The time for detailed notes hasn't quite arrived, but Tilmann's stray passes cost the team a couple of quality chances. There were at least three of them. The 22-year-old will simply have to plat more polished football during a campaign that will prove crucial for his international career.
Early Tactical Prognosis
Once some of these injuries clear up we may see Tillman relegated back to the bench. He didn't even get his first of six starts until the 18th matchday of the 2020/21 2. Bundesliga season. Leitl could use him as a stabilizing midfielder in his regular set-up. This remains hard to envision as Tillman's basic skill set renders him more of later-match attacking augment off the bench.
A forecast that Tillman will find himself back on the USMNT radar this year wasn't disseminated without thought. Shooting and passing accuracy may have been lacking on this particular, but one can see the potential of a player not far off from where he needs to be with some further refinement. We'll tip a total of twenty appearances this year. Maybe eight to ten starts.
---
Julian Green, SpVgg Greuther Fürth (AM)
---
Tillman gets his chance to ride in on the more recognizable player's coattails. The (still) youngest player ever to score at a World Cup very much earned his call-up back to the USMNT after a fantastic season last year for the Shamrocks. Green did everything in his power to work against the cup loss, scoring a sensational equalizer to send the match into extra time and converting his penalty in the shootout.
Leitl began moving his pieces around in the Pokal fixture with a defensive-minded sub at the half. Green and Tilmann were effectively trading places after two more changes in the 68th and 74th. For the sake of avoiding confusion, we'll diagram the perceived constellation after Tillman himself was subbed off in the second added period.
Lineup—Greuther Fürth—DFB Pokal—113th minute (5-1-4)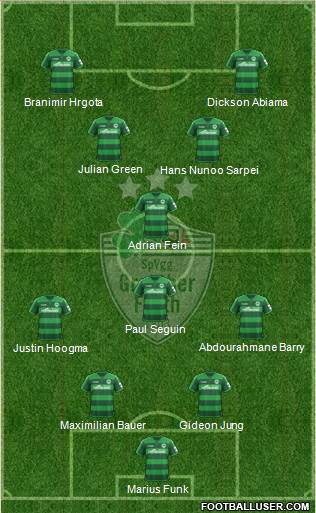 Here's were someone like Green can do a lot of damage. If strikers ahead of him spread out wide, he's good at interpreting pockets of space on the rush and happens to be a very good finisher. One would have liked to have seen a little more from him once this basic blueprint crystallized. To his credit, the 26-year-old kept running hard until the very end. He can be forgiven for running out of useful ideas as the game wore on.
Early Tactical Prognosis
Coming off the heels of his most promising season since his days as a Bayern youth prospect, we can expect Green to start every match if he remains fit. One likes a more advanced role for him, but he can absolutely make his contribution as a half-way-line straddling-winger. As is common with cautious promoted teams, there will be plenty of midfield circulation diamonds utilized this season. Hopefully, Leitl will have to stones to deploy a rhombus or two.
A five or six goal haul should prove sufficient to keep USMNT head-coach Gregg Berhalter interested throughout the course of the year. It's not inconceivable, either. At the very least the USSF will wish to keep a hook in Green because of the Tillman connection. The latter still hasn't officially suited up for the USMNT even though he's joined a couple of training camps and presumably retains the view that his future lies there.
---
Introduction: The "Returning Actors"
---
Of the five returning footballers (and one trainer) to discuss in our "welcome back" section, Giovanni Reyna supplied by far the strongest performance over the Pokal weekend. Tyler Adams and John Anthony Brooks occupied more of the middling range. No action for either Chris Richards or Timothy Chandler for different reasons, but we'll still accord them some space.
When it comes to the topic of American trainers in the Bundesliga–something few could have conceived talking about just a few short years ago–we witness Jesse Marsch running one of the field's pinnacle sides while Pellegrino Matarazzo already presides over a bunch that engenders different opinions among the German footballing public. This writer has cooled significantly on Stuttgart, but they remain a hot tip among many others.
---
Tyler Adams, RasenBallSport Leipzig
---
We've the preliminary tactical position of the New Yorker illustrated above. The 22-year-old has always preferred to function as a deeper six and it would appear the trainer that groomed him at Red Bull NY shall be more than happy to oblige. We should see significantly fewer demands placed on Adams this season. Nagelsmann's departure combined with better squad balance and (presumably) fewer injuries should see him settle into a more regular role.
Whilst this does translate to more anonymity insofar as one of last season's more dishearteningly mediocre players is concerned, he'll have a better chance of quietly contributing to the team off the scoresheet. To reiterate a point stressed many times before in this space, Adams' greatest asset remains his field vision. It may have proven semi-encouraging to watch him bomb up and down the right flank with youthful exuberance last year, but one always had the sense that he'd have a better impact on builds from the back.
---
John Anthony Brooks, VfL Wolfsburg
---
Mark van Bommel didn't tinker with his in-place center-halve pairing in Sunday's Pokal fixture. He might be tempted to do so as both Brooks and Maxence Lacroix didn't play particularly well. Oddly enough, the American and Frenchmen looked a faint shadow of their normal selves. Both players were booked for silly challenges. Overall, they seemed to be still operating at training speed. It obviously shouldn't cost them their starting roles. An unfortunate truth about Bundesligists from the larger clubs concerns the fact that they do often treat the Pokal "soft opening" as an additional practice match.
Many in German footballing circles suddenly find themselves concerned for the VfL after scouting the 3-1 cup win over Preußen Münster. To be fair, a lot of this has to do with van Bommel's illegal substitution. In all likelihood, the error shall render Wolfsburg's victory a loss. The incident reminds one that this offseason's "coaching carousel" that saw the top seven teams switch trainers must contain at least one mistake in it. Not all of these clubs can expect success. Die Wölfe opted for a rookie coach, who may have some difficulty fashioning his own system out of the one he inherited.
Brooks did okay in terms of passing and defending. He also joined the attack at opportune times and got a great chance off early in the second half. Many challenges were nevertheless poorly timed. He quite uncharacteristically lost some aerial duels with delayed reactions. Again, this doesn't count as something to be overtly concerned about. One anticipates there will be many paeans to the Berliner, just as there were last season. The look and feel of his team entering the season still gives one pause. A defender on a flailing squad can expect plenty of rough days.
---
Timothy Chandler, Eintracht Frankfurt
---
From Mark van Bommel to the man that vacated his chair, we have another member of the "coaching carousel" stumbling out of the gate in the form of former VfL Wolfsburg trainer Oliver Glasner. Die Adler looked truly lost from the very start in their shock 0-2 loss to SV Waldhof Mannheim. Three of the members of the back-five got booked in the opening half-hour as the amateurishly organized defensive ranks stretched, bent, and ultimately broke. The SGE were lucky to escape the first-half unscathed. It didn't surprise at all to see them go two goals down after the restart. Keeper Kevin Trapp spared them a truly humiliating scoreline.
None of this appears to have any direct consequences for "Timmy". The 31-year-old has evolved into a later-match attacking winger role in this stage of his career. Even if he were still considered a defender, Glasner has no reason to radically alter the spine of three center backs anchored by Martin Hinteregger. A lackluster debut from the returning Danny da Costa at the right wingback position probably still doesn't open the door for Chandler. Erik Durm and Adjin Hrustic lie above him on the depth chart at that position. The basic forecast for this American remains the same. We'll hope to see him,  yet won't expect to.
---
Chris Richards, FC Bayern München
---
The news of Benjamin Pavard's injury brings with it massive connotations here. Americans will very much want to tune into Friday's season opener as it's possible Joe Scally shall be squaring off against a fellow American international in the form of Chris Richards at right-back. He played there last season for the German giants. In truth, Richards can be deployed anywhere along the back-line. With his performance on loan at Hoffenheim in mind Nagelsmann will probably wish to keep him in the event that he does ultimately switch to a back-three. Naturally, one might as well note that such a thought borders on the realm of wild conjecture. So many mysteries about Bayern entering the season.
The Pokal postponement leaves us without a vitally useful piece of pre-season intelligence. We haven't even seen Nagelsmann's Bayern win a test fixture yet. The preparation phase has been cautious and plodding, but that hardly counts as evidence that the new young trainer has something radical up his sleeve. A renewed loan for Richards cannot be ruled out. Decision of that nature ordinarily get pushed back until a trainer gleans a better understanding of his needs through a few rounds of the season. Accordingly, this American's season is probably the most difficult to forecast.
---
Giovanni Reyna, Borussia Dortmund
---
Many agree that Erling Haaland's hat-trick in Dortmund's 3-0 victory over SV Wehen Wiesbaden served as the top highlight of the Pokal round. On the whole, after taking many forgettable and half-hearted performances into account, the BVB were perhaps the only true squad that looked to have their true game-face on. Erling Haaland's nicknamed friend "The American Dream" proved himself very worthy of Jadon Sancho's kit number with a simply splendid match.
Gio stormed out of the gate fearlessly taking players on left and right. Rose has wisely opted to keep him locked into a semi-regular set-piece taker role as well. Some good work in training manifested itself in the form of some deft free kicks. The youngster also got on the scoresheet with a sumptuous through ball on Haaland's third goal. Interestingly enough, Reyna played about as far back as we've seen him positioned.
Lineup—Borussia Dortmund—DFB Pokal (4-3-3)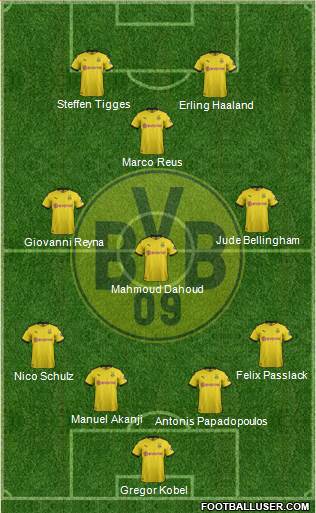 Weird. Unexpected. It worked. Captain Marco Reus made good use of the extra space accorded him as a centralized ten. Reyna and Jude Bellingham remained on the same page as rotating eights. With some irony, one notes that perhaps the most experimental construct of the Pokal round proved the most effective. It remains far too early to draw grand conclusions from it, however.
The thoughts invested in wondering if there's something we can learn from this constellation didn't really bear fruit. The thought of Haaland having a regular striking partner still seems far too radical. Shifting Reyna back and putting him on an axial rotation with Bellingham probably had more to do with the preferred fullbacks and the defensive linchpin (Hummels) being out more than anything else.
Reus worked extremely well from his spot, but it's next to impossible to figure out a way of keeping him in that role. We should probably see Reyna back on the right opposite Donyell Malen before too long. In terms of the early form on display from the American, he absolutely convinces. Little should stand in the way of an eminently successful "Gio year".
---
Pellegrino Matarazzo, VfB Stuttgart (Trainer)
---
From an intriguing tactical masterclass to something that, frankly, wasn't much fun to dissect at all. Stuttgart furnished the most lopsided scoreline of the Pokal round by running it up late against Berliner Dynamo FC. This served as validation for those tipping the Swabians to contest the Europa League places this year. No other team solicits such differing pre-season opinions than this one. Some like them at the top of the table. This columnist sticks to a relegation race prediction.
Lineup—VfB Stuttgart—DFB Pokal (4-3-3)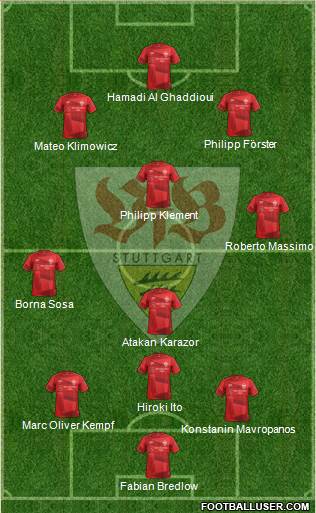 Meh. Perhaps the eyes tire of the once novel split-stagger on the flanks. Another possibly is that the eyes yearn to watch "Silas" once again work it opposite Borna Sosa. Hiroki Ito and Atakan Karazor did indeed do a good job of closing ranks in central defense. A problem with this was that it produced reliably boring football that sadly degenerated into displeasing sloppiness at times.
The hosting Berliners still got plenty of chances. Lack of quality finishing meant that the final scoreline proved enormously misleading. A couple of missed shots at a late consolation totally deflated the hosts and the VfB was able to pile on with two late tallies.
Early Tactical Prognosis
With a general sense of foreboding, one has the sense that this team will draw more than their fair share of matches this season. They're built to play it safe in their second year back in the top flight. Okay. The Württemberg faithful will take it. The rest of us shall find it a more bitter pill to swallow. At the end of the season, neither the UEL or relegation race tippers prove correct. Matarazzo's men draw some 14 fixtures and we all wish we could get a few hours of our life back.
This writer sends friendly greetings to all Bundesliga fans out there ahead of another fantastic season! You can catch Peter on twitter, @ViceytheSS.
Twitter DMs are open for football conversations, corrections, and (if you truly insist) general abuse. 
All columns debut on Bulinews before appearing on Peter's website later in the week.