The 2021/22 German Bundesliga returned last week for the official start of the campaign's "Rück-runde". For now, the saga sadly continues significant  without live fans. Those of us who live and breathe Bundesliga must send spirited good wishes from afar.
A part of us can still be transmitted to the glorious footballing cathedrals of the Bundesrepublik. We can still watch, not to mention show our appreciation through writing. With that somber observation behind us, we can begin two delve into the full-color of the latest tactical hot sheet posted on Bulinews.
There is joy to be had. There always shall be so long as there's football.
---
Bundesliga Tactical Banter: Round 18
---
"Ups on Uphoff"
Freiburg slipped to fourth place over the weekend after failing to maintain a 2-0 lead away at Bielefeld. The Breisgauer played a brilliant first half, totally outplaying the Teutoburgs from every last angle. Once again, the inability to build up an insurmountable lead came down to some poor finishing luck from attacker Woo-Yeong Jeong and a hot goalkeeper in the form of the DSC's on-point Stefan Ortega Moreno. It appeared as if all that wouldn't matter when Jeong finally did convert for the 2-0 just after the restart.
Then came a pair of positioning errors from SC back-up keeper Benjamin Uphoff. The 28-year-old town flight debutant had a nightmare second half during which his mistakes could have led to even more goals. Christian Streich unfortunately had to do without his reliable regular Mark Flekken following a positive COVID test. Poor Uphoff, who had started over 200 fixtures in the lower divisions, got burned during the realization of his lifelong ambition.
Yikes. At least Streich and the rest of the team had the class to rally around their fallen comrade afterwards. Everyone took their fair share of the blame for not increasing the lead when they should of. Lucas Höler even credited the keeper with doing enough to preserve the 2-2 draw that ensured Freiburg didn't slip back further. It still pains one to simply think about what must be going the mind of the former Nürnberg and KSC keeper. What a horrible turn for life to take.
"The Raum Traum"
Union Berlin also failed to maintain a lead in their weekend encounter, missing out on a great opportunity to push towards the top four with a late conceded goal at Leverkusen. Some truly rotten luck for die Eisernen, who could definitely rely on their veteran keeper Andreas Luthe down the stretch.  Luthe was regrettably powerless when Patrik Schick and Karim Bellarabi engineered a Jonathan Tah equalizer in the 82nd. Max Kruse and Bastian Oczipka missed fabulous opportunities for the outright winner with aluminum hits in the final 15 minutes.
Alas, points come to those who prove capable of closing a game out properly. Sebastian Hoeneß' Hoffenheim turned their 2-1 lead into a 3-1 victory with David Raum's second Bundesliga goal. The rapidly rising national team player's dream season continues. Commemorating his second top flight tally (the 23-year-old has already supplied an impressive six league assists) led Raum to unveil his new English language "Living the Dream" tattoo embossed on his chest.
From the 2. Liga to the national team, Raum explained afterwards that he got the tattoo show off to all those who wish to rise to the top. Thanks to the three points Raum secured for his team, we're discussing Hoffenheim in third place instead of Freiburg. Union aren't moving either thanks to a one-point haul. As TSG brace-scorer Ihlas Bebou put it, the "table looks good" for those who can close out a match. Aptly stated. It looks less encouraging for others.
---
The "Spiegel Specials": Round 18
---
Just as we did in this column at precisely the same point last season, it's time to unveil our "Spiegel-Specials" feature. One of the real joys of the Bundesliga is that teams (unless weather or COVID gets in the way) play themselves in precisely the same order as they did during the first half of the season.
This wonderful, orderly teutonic stuff allows us to look straight through the mirror and reflect upon where we were at this precise point in the Hin-runde. It's round 18, which means the columnists prep work this week began with reading the round one tactics bulletin. Hmmm…Dortmund fit for a title challenge, you say?
We were so young then.
Bayern-Gladbach (1:1, 1:2)
Not exactly the match best made for the Spiegel Specials, but we do have to address it. Julian Nagelsmann's invincible Bavarians have dropped points in the title race, thanks in large part to the fact that nine COVID absences forced the FCB trainer to call some kids who signed up for summer football camp into the bench squad. Congratulations to 16-year-old Paul Wanner and 17-year-old Lucas Copado for appearing for the first team!
Surely the columnist couldn't have been the only one experiencing serious nostalgic flashbacks whenever the Bayern bench came up on screen. Scenes like that really took you back to the pre-teen days spent at summer football camp. We were all so very young back then. That damn pushy camp counselor and his strict "lights out at 20:30" rule. Hell with him!
Lineup—Bayern München—Match 18 (4-2-3-1)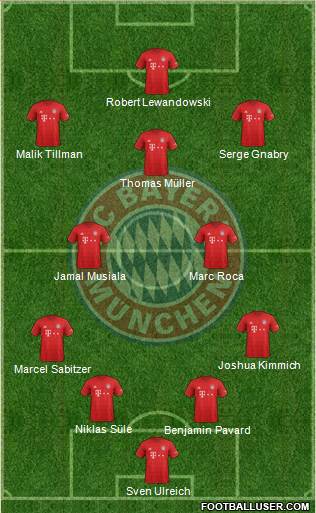 This is history. One shall very likely never see Marcel Sabitzer play left-back again. Something of nice ironic twist that Joshua Kimmich had to return to the position he's long wished to move on from. One didn't have to look at the Bayern bench to get that "summer camp" vibe. Watching Jamal Musiala, Marc Roca, and Malik Tillman complete passing triangles proved sufficient enough. One could hear the voice of one's old drill instructor in one's head. Overall, that trio (particularly Roca and Musiala) really improved over the course of the match. It looked as if they heard the drill instructor and rose to the occasion.
The result wasn't a fair one at all. Rusty and not entirely sure of himself, Kimmich botched a clearance on Gladbach's quick equalizer and an unfamiliar XI messed up the set-piece marking on the goal that enabled the foals to take the lead. Even after falling behind, the Bavarian hosts remained the dominant team. Robert Lewandowski missed out on a hat trick thanks to a hit off both the post and crossbar. Musiala and Thomas Müller were some unfortunate stumbles away from their own tallies.
Prognosis: Sympathy for the Devil
It will take quite a few more stumbles to overrule Bayern's runaway pursuit of the title. What's more, virtually no German Bundesliga enthusiasts wish to see the title race reinvigorated like this. Anyone wishing to de-throne the giants must do so in a fairer fashion. Football lovers in the Bundesrepublik know that we can't get a completely fair title race. The 2019/20 season gifted Bayern the most unfair advantage of all.
Lewandowksi was hurt when play was suspended in March of 2020. When play resumed two months later, the world's best striker was back to full fitness having had ample time to rehab. The Polish superstar then helped Bayern take both the Bundesliga and the Champions' League easily…but didn't get his Ballon d'or. Okay. Keeping track of what's fair and what isn't can be very complicated.
In any event, the general mood in German footballing circles holds that the title race is absolutely not back on yet. Those who detest Bayern want to see them pick their points back up with something resembling the proper roster. The Bundesliga isn't summer camp…..even if Nagelsmann kind of resembles that camp counselor a bit.
Fürth-Stuttgart (1:5, 0:0)
Here's a good "Spiegel Special". Back on matchday one, 2020/21 promoted side VfB Stuttgart supposedly delivered a stern message to the newly promoted Fürth. The 5-1 shellacking served as a lesson of sorts for how to build a squad fit for the top flight. That was obviously before the VfB began playing some of the most horribly ugly football imaginable and became the bane of this writer's existence.
Despite the fact that some of Pellegrino Matarazzo's roster injuries continue to clear, Stuttgart are now bonafide relegation candidates. We saw that confirmed this weekend when last-placed Fürth pushed the Swabians around in a fixture that ended 0-0. The Middle Franconians enjoyed the better chances against this set up.
Lineup—VfB Stuttgart—Match 18 (3-4-3)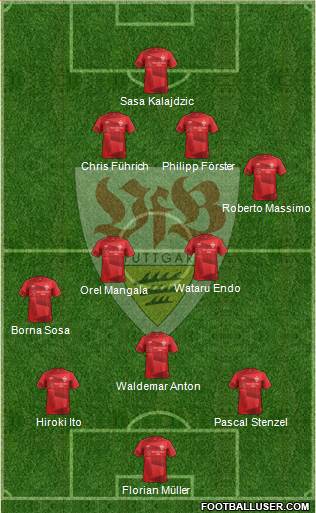 Sasa Kalajdzic is back. The two-meter-tall Austrian even went the full 90 minutes. Matarazzo apparently felt it was more important to keep him on and get him some action than taking it slowly with his return from injury. As it turned out, the lead striker had a largely inactive game after a chance in the 26th. He didn't receive an actual quality service from Borna Sosa until 15 minutes from time.
The American trainer remains wedded to his trademark "split-stagger" until the bitter end. In this one, key actors such as Konstantinos Mavropanos and Silas. Daniel Didavi might have been helpful too in an advanced midfield position. Throughout the course of the season, we've seen Matarazzo stick to this set of tactics with ineffective placeholders for the long-term injured.
As we've discussed many times, it's a question of riding out the storm until the cavalry comes back. We'll find out over the course of the next crucial few weeks if this proves the right strategy. This team must get itself out of the relegation race. Sven Mislintat also needs to earn his paycheck and get this bloated roster reduced.
Prognosis: End in sight 
Somehow, the columnist finds himself in an optimistic mood here. There were enough positives to take away from this match despite the fact that total disorganization made lowly SpVgg Greuther Fürth look like world beaters for some 60 odd minutes. Once Sosa got accustomed to having his main target back in his sights, quality football sprang out of nowhere in the final 20 minutes.
Sosa, placeholder Pascal Stenzel, and even captain Wataru Endo woke up and quickly got their muscle memory rolling again. They remembered how to play football. The Stuttgart stir was a little bit like the famous Dortmund awakening from this weekend; a case to which we now turn.
---
The Burning Questions: Round 18
---
What's the story with Dortmund?
It very much depends upon who you ask. As marvelous as a three-goals in 20 minutes fight-back against arguably the hottest team in the Bundesliga can be, the narrative going forward can vary greatly depending on one's perspective. Some will declare the 2021/22 title race back on. Others will point to how languid and defeated the BVB looked for long stretches of the match and say that even an emotionally uplifting victory such as this one can't cancel that out.
Let's see if we can't take a look at both
Rose's Troubles continue
Dan Axel-Zagadou's loss to COVID meant that Rose again had difficulties at center back. After Axel Witsel's breakdown's in the Hertha fixture and Marin Pongracic's continued form struggles, the fall-back solution was to move the versatile Emré Can into the back four alongside Mats Hummels. The correct move, absolutely
Raphaël Guerreiro was deemed fit enough to start and thus served opposite Thomas Meunier. That gives you something. It may be 1/250th of what Achraf Hakimi provided in Meunier's place, but that's a bottle of milk both spilled and evaporated long ago. Mahoud Dahoud ran the midfield as a solo-six. He can do well at that position. So too can Marco Reus and Donyell Malen inward pulled flank positions behind Erling Haaland.
Lineup—Borussia Dortmund—Match 18 (4-1-4-1)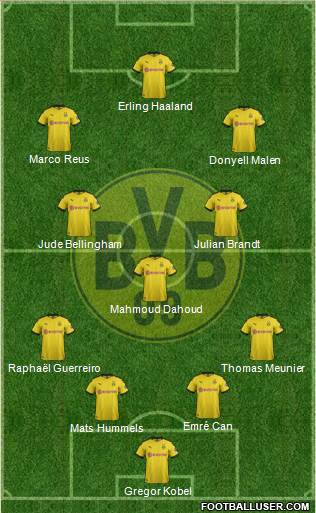 This should work fine. It's not merely a matter of being the best constellation cobbled together under the circumstances. Rather, it's a good lineup full of talent capable of competing with just about any team in the league except Bayern. We can talk about the fact that Oliver Glasner's streaking Frankfurt were ultimately able to line up in the coach's preferred 3-6-1/3-4-2-1. We can also note that, thanks to some unexpected good news involving Danish attacker Jesper Lindstrøm, Glasner had all his best actors (save Djibril Sow) present.
All of that in no way excuses how this team behaves when falling behind. The Schwarzgelben did okay coming out of the gate. During a hard fought opening ten minutes on a rough pitch, one could have accorded Dortmund the title of the better team. The BVB approached moved slowly and methodically, but Rose's men were able to make small pinprick's while the Hessian hosts failed to get their counterattack rolling. A lack of precision, a few offside rushes, and a couple of solid saves from Kevin Trapp nevertheless meant that the Westphalian guests racked up points that didn't matter.
The collective shoulder slump
Raphael Santos Borré was actually able to open the scoring on Frankfurt's very first chance of the match. Kostic supplied a lovely free kick service to the Colombian striker, but both Bellingham and keeper Gregor Kobel looked a little lax on the 15th minute 1-0. Glasner's SGE took up a defensive posture in protection of their lead, but were gifted several more chances to double the advantage with passing errors in the BVB build up. One such instance in the 24th enabled the hosts to go up 2-0.
An miscommunication between Can and Meunier turned the ball over to Kostic. The Serb, in far two much space, whipped in a cross that Kamada couldn't quite connect with. It mattered not as Reus couldn't get his foot around the ball afterwards. Borré made the "captain fantastic" look silly by dancing around him with two immaculate touches and an absolutely perfect finish.
It took forever before the rattled yellows recovered from this shell-shock. Only at 45+2 were they finally able to generate some efforts on target. Trapp made a fantastic save on a Hummel's header. Malen was available for the rebound, but he couldn't quite figure out which foot he wished to finish with in time. The second effort caromed off the post.
Mountain crawling
After the restart, it again took some time for the BVB's collective team posture to lift up. Everyone had a bloody piano on their back. Frankfurt got the better of the second-half initially, with Lindstrøm missing the finish after an amazingly slick solo run in the 47th. The hour mark came and went without the BVB producing much memorable.
Around the 62nd, things began to pick up. With better ideas, Haaland and Reus got a couple of looks in. There were signs of life. After a couple of promising builds, Reus suddenly picked out Haaland after a nice midfield ball win in the 71st. The Norwegian in turn then spotted substitute Thorgan Hazard running in. The Belgium pulled a goal back and it was game on.
The short final spurt
SGE keeper Trapp did his level best to preserve the scoreline, making some good saves. Suddenly, with four minutes left in regulation, the BVB were able to restore parity. Meunier had the presence of mind to follow up on an inconclusive 50-50. The Belgian fullback then redeemed himself with a brilliant service towards Bellingham. The Englishman finished with his head for the 2-2.
Rose's men could have absolutely rested on their laurels, but they kept pouring numbers forward in search of the winner. Dahoud kept after a loose ball that Haaland lost in the 89th The young German international then rifled in a tomahawk into the back of the net from 19 meters out. Trapp stood no chance this time. Nice stuff.
The conclusion: Feeling like Hummels
It's a fine enough story, not to mention a totally legitimate win. Dortmund were able to secure those three tallies in the final 20 minutes by being both attentive and aggressive in pursuit of loose balls. That constitutes a vital piece of Footballing 101 often lacking in this team. They've now done the double over Frankfurt. The team can probably summon up enough momentum to top Freiburg next week and advance in the Pokal with a confidence building win over FC St. Pauli.
All of that notwithstanding, many of us league watchers find ourselves fatigued with this team's constant confidence woes. Some may have not identified with the post-match remarks offered up from Mats Hummels as the 33-year-old now has a reputation for being a tired and crabby old curmudgeon. The fact remains that watching Dortmund these past few years has made tired and crabby old curmudgeons out of many of us. The pandemic hasn't helped either. We're not in the stadium to cheer these young and often fragile players on. Deprived of our role, we now lose patience.
For the record, this columnist completely identifies with Hummels. It's simply aggravating to watch these kids give up and outright sulk on the pitch at times. The BVB's "well, we might as well give up" type of attitude in the Champions' League debacle this year really touched a nerve. What happened on Saturday served as a most welcome breath of fresh air, but it should be noted that a little more than 20 minutes of it would have been appreciated. We'll need much more of the same before backing this team for a title push.
Will Köln be okay defensively?
We really don't know yet. Steffen Baumgart insists that everything is fine. We were all surprised and taken aback when Rafael Czichos opted to fulfill a life-long dream of taking the kids to Walt Disney World, but die Geißböcke remained adamant that they didn't need another central defender to replace one of the Hin-runde's best performers. Go figure. Almost to emphasize the point, they even gave Sava Arangel Cestic his outright release later in the week. Okay.
We're now left with only three natural center backs on the Effzeh roster just before entering a critically important Pokal week. With all the stubborn confidence of an actual horned mountain goat, Baumgart has insisted that Timo Hübers, Jorge Mere, and old Paderborn acquaintance Luca Kilian are all he needs. That uppity and fickle Czichos? Bah. Who needs him? We're better off without him. He was moody and always fell behind on the laundry/dishes anyway!
The trouble is, we just don't know. Hübers and Kilian did a serviceable job this weekend, but that doesn't mean terribly much against the entirely not intimidating Hertha striker duo of Davie Selke and Myziane Maolida. Poor Tayfun Korkut had to run his 4-4-2 without Stevan Jovetic (injured again) and Isak Belfodil (COVID). The BSC trainer didn't even have any options for adjustments off the bench with Krzysztof Piatek off to sunnier climbs. He had to let that toothless constellation run for virtually the entire match.
We just don't know yet.
Keep an eye on this.
Did Wolfsburg improve?
There's an easy one: "no". Florian Kohfeldt's complete mismanagement of this squad continues. The former SV Werder Bremen trainer tried to have it both ways again with Sebastiaan Bornauw at the center of a back-three flanked by John Anthony Brooks and Maxence Lacroix. After literally driving a wedge through a solid center halve partnership with his mouth, Kohfeldt now has basic build-up problems to accompany his link-up play ones and general creativity dearth.
Germany's green company team looked a flaccid mesh in their visit to Bochum. Jerome Roussillon, Luca Waldschmidt, and Maximilian Philipp didn't even appear to be looking for Wout Weghorst at all. That trio only had eyes for navel-gazing. German fan-favorite Ridle Baku was the one bright spot one the whole afternoon. So very nice to see him have a good match after such a long wait.
On the topic of waiting, German fans also wanted to see VfL Bochum head-coach Thomas Reis throw former Hoffenheim standout Jürgen Locadia into the mix. The 1848ers brought the 28-year-old Dutch striker back to the Bundesliga on a low-key free earlier in the week. The 28-year-old wasn't in German football for long in the autumn of 2019, but made quite the impression during his brief stint. Alas, Reis wasn't ready to use him yet.
---
Weekly Tactical Focus: Probing for Lies
---
Whenever a break in action leaves followers of football with static standings, the really big questions that begin to fester involve so-called "table rectifications". Even long before the xG/data analytics revolution took hold in football, devotees of the league game never truly accepted the old adage of "the table doesn't lie". Rubbish. A league table was always a very deceptive mistress. She cleverly conceals secrets with a mischievous grin.
Football's point system alone exaggerates the separation of teams. Results themselves mask important facts and trends. That's before we even arrive at the (proven beyond all reasonable doubt) fact results are often misleading, unfair, and arbitrarily dishonest. Forced to stare at a league table remaining inert and unchanged for a period of several weeks, the teams begin to move in the football fan's mind. What isn't right here?
We'll spend some extra time covering Leipzig this week. Anyone who spent some time staring at the Bundesliga table over the Christmas break obviously understands why. Germany's Red Bull affiliate possesses the second most valuable roster in the league, yet spent the holidays in 10th place on 22 points. That's way line with a €500 million personnel head count; so much so that everyone treats their course correction as an inevitability.
Such logic guided this week's choice for a tactical focus. When it came time to take one's eyes off a static table and move them to the upcoming fixture list, Leipzig-Mainz quickly got the circle. For the RB, the road back to the Champions' League places began with an encounter against a team that upset Jesse Marsch's power-squad on the opening day of the season.
A potent chain-reaction followed. Jesse Marsch never fully recovered from the seed of doubt planted in his garden on opening day. For whatever its worth, this columnist struggled with it too. It proved exceptionally difficult to appraise Marsch's work from any sort of neutral perspective. The criticisms of the European press seemed far too harsh. At the same time, the writer needed to take his own personal biases into account.
Our first "Tactical Focus" section of the Domenico Tedesco Era at Leipzig has some conclusions to offer. Before getting to them, we do need to highlight the reality that such biases may still be at work. Consider that laid bare. Having placed that on the table in full view, there's now the matter of this somewhat deceptive match.
Results can lie. The table can lie. Even wins and losses on the spin can lie.
Lineup—RB Leipzig—Match 18 (3-5-2)
We'll immediately credit Tedesco for using what limited training time he had with the club to come up with a solid system. Naturally, the depth he possesses at every position renders his basic task fairly easy. On virtually any other team, ready-to-insert back-ups for Emil Forsberg, Nordi Mukiele, and Christopher Nkunku aren't simply standing there waiting to be inserted. Such a point gains further salience when we get to Bo Svensson's options below.
There are still some well-thought-out features here. A pivot position for Willi Orban put the squad on the front foot possession wise. Execution in the final third was initially horrible, but the team remained secure on the ball consistently enough to eventually stretch and tire Mainz out with the requisite ball chasing. Lukas Klostermann's use as an advanced wingback contributed to this outcome as well. The one-time national team starting fullback never played so so high up before, at least not in a match that the writer saw. He was clearly drilled well.
Lineup—FSV Mainz 05—Match 18 (3-3-2-2)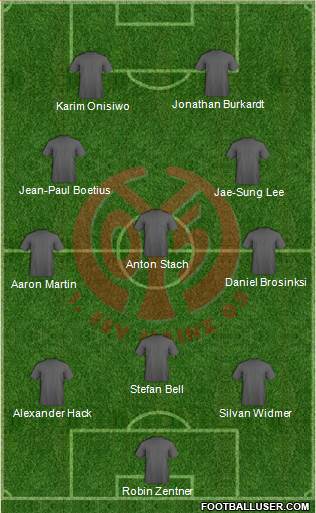 For FSV trainer Svensson, the team's basic tactical system must remain sufficient. Minor alterations can be found here and there, but the core remains a spread constellation in which the squad squanders precious little energy on positioning and gives everything on direct duels. One could say that there existed some deliberate instructional changes on this day. The case is nevertheless tough to prove.
Choices or plans?
If one wishes to directly compare this to what we saw in the last league fixture, it looks as if the striking tandem of Jonathan Burkardt and Karim Onisiwo flipped. Beneath "Johnny-si-wo", Jae-Sung Lee spent more tine on the right flank than the left. Jean-Paul Boetius appeared to take over that side. Stefan Bell might have run a slight pivot.
Some time was invested in making these foundational plot point calls. Note that, given the amount of organic rotation involving the front four players over the course of the match, the final judgment on the topic of "plans for the attack" holds that there weren't any special ones. This is just how the players moved. It is more likely that Bell had a pivot assignment, but we'll never truly know as Svennson had to revert to a back-four early.
The crux of the cascade
Unlike his counterpart, Svensson had only one COVID absence to deal with. It was, of course, not an insignificant one. Squad skipper and defensive anchor Moussa Niakhaté constituted a huge loss. The FSV gaffer had to reorganize his back-three. That's one reason why the pivot for Bell was probably deliberate. One can trace the loose thread in the Pfälzer sweater back to the loss of another player, however.
Most of us anticipated a simple, straightforward fix. Svensson had defensive all-round Niklas Tauer available to slot into the back-three; a young and dynamic player who happened to be in fine form as of late too. When a team sheet featuring both Daniel Brosinski and Silvan Widmer came out, most of us could immediately see that something was amiss.
Indeed, Tauer wasn't even on the bench squad. We wouldn't find out until after the match that a muscle tear kept him out. This counted as pretty bad news from the start. Widmer suddenly had a large patch of ground to cover at a position that wasn't his. As we shall see below, Widmer would then struggle with another in-match adjustment. A combination of hard luck and a bad personnel choice from Svensson.
David Nemeth probably should have gotten the starting nod. Then matters might have unfolded differently. As it turned out, a lot of solid work got misleadingly obscured by the scoreline.
Match Flow: 1st to 15th minute
Leipzig's possessional play in the opening two minutes left one aghast. Even accounting for the break from competitive action, the Saxons appeared to have dropped down several levels from where we last saw them. The Pfälzer guests allowed all this awkward and choppy passing to commence until the 3rd, when Lee stepped up to win a ball a tried to hit Onisiwo with a vertical. The Mainz striker himself fought a noble battle on the touchline to earn a throw in.
RB quickly wrestled possession back, but Lee was very much in the mood for more. The South Korean international disrupted another Leipzig build and attempted to spark another quick counter in the 4th. Angelino cleaned up at the back and then tore forward for a Leipzig quick break. The Spaniard's intuitive cross at the end of it proved easy for FSV keeper Robin Zentner to collect. Another nice Mainz counter in the 5th featured good work from Lee and Onisiwo. The final ball was just out of Burkardt's reach.
Lots of midfield possession changes over the next two minutes. USMNT team captain Tyler Adams ensured that the hosts would retained a slight morale advantage with two nice wins in the 6th. Adams then fought an advancing Onisiwo to a draw in the 7th, forcing an inaccurate diagonal from the Austrian striker in Lee's direction. The very active Lee then burst through on his own carry in the same minute. Kevin Kampl had to haul the spritely attacker down with illegal contact.
Nothing came of the ensuing free-kick as Burkardt was miles offside. Around the 9th, Leipzig's overall game exhibited greater signs of polish. Kampl got the ball upfield with some dribbling skill on the turn. An advancing Josko Gvardiol then hit Dominik Szoboszlai on a well-executed leftward cycle. The ball ended up with Silva in the box slanted right. Mainz's defensive ranks closed in on the Portuguese striker quickly, but the summer acquisition did extremely well to hold the ball up with a nice shield.
The play ended up gifting the Saxons a nice opportunity via a throw-in. Angelino winded up the long throw in the 10th and Gvardiol (following a nice shield of his own) turned around and fired in Silva's direction. The ball simply had too much pop on it. An 11th-minute Mainz counterattack got whistled down with Burkardt once again offside. A 12th-minute Leipzig slow approach featured a string of 18 or so consecutive passes. The cycle mostly worked right, run by Adams with tap-backs.
Silva and Youssef Poulsen had appeals for fouls as the frustrated Rheinhessen began gravitating towards the ball. Match official Deniz Aytekin might have missed the one on Silva, but he clearly allowed a correct advantage play on challenge that took the Dane off his feet. Adams calmly held the ball whilst Poulsen got back to his feet and the American quickly pulled back for the him once he was in position. Poulsen's cross for Silva was actually a very good one. In a something of a wince-inducing play, however, Silva had his eyes on Widmer instead of the ball.
It was an embarrassing missed header. Burkhardt and Boetius ran a decent counter off the play in the 13th. Gvardiol made certain it wouldn't produce anything by staying with Burkardt perfectly and ultimately steering the return ball away from him. Tedesco's men put together another very nice looking attack build in the 14th. They seemed to be finding their groove a bit. Mohamed Simakan even came all the way forward on a clever trail. The manner in which he gave the ball away needlessly was a little less clever.
A third successive quality build in the 15th meant that the hosts were indeed playing their way into the game. Adams won a great ball on the next rush. After a rearward bow-cycle, Leipzig were just outside the box. Aytekin had to reach into his book early after Lee came in very late on Klostermann. Accompanying our first yellow card, we also got our first break in the action. Klostermann required treatment.
Match Flow: 15th to 22nd minute
The Mainz wall stood tall on the subsequent set-piece. Gvardiol delivered some impressive work on both sides of the ball once open play resumed. The Croat defender first closed down Burkardt again on a return ball. Klostermann had given the ball away and the Rheinhessen striker tried once again to execute a give-and-go with attacking partner Onisiwo. Gvardiol's fine stop sparked a counter. The Croat then caught up with the attack on a beautiful trail. Adams hit his defender in stride with a perfect short horizontal in the 18th.
Gvardiol let rip with a comet that Zentner had to palm away at full stretch. After nothing resulted from the ensuing corner, Leipzig kept the play alive with persistent scrambles. Zentner would finally collect again in the 19th when Kampl sent in a cross just too near to him. Svensson's men nevertheless immediately lost the ball after Zentner restarted the play and the FSV net-minder found himself acrobatically stretching again to keep a Poulsen effect out. Silva latched onto the rebound and aimed directly at the empty net. Alexander Hack threw his arm out instinctively.
This column will take the position that Aytekin made the right call in awarding the penalty and giving Hack the straight red. Although the ball struck off Hack's bicep, the veteran Bundesligist did deliberately throw his arm out. Via this action, he precluded a ball headed for the back of the net from bulging it. Hack knew better. Aytekin calmly listened to the player's complaint and even acceded to the Hack's request that he radio up the VAR team in the Kölner Keller.
No evidence to overturn a clear penalty.
Silva converted for the 1-0.
Match Flow: 22nd to 41st minute
All cameras turned to Bo Svensson on the sideline. The discussion delay accorded him the chance to make a substitution if he so desired. The FSV gaffer didn't appear to be in much of a contemplative mood, however. He first blew off some steam by picking up some rubber matting near the touchline and throwing it off to the side. After pinching his nose in stress for a few seconds, he then turned around and flash signaled his players on the pitch.
Four fingers. Three fingers. Two fingers.
The Pfälzer had their orders.
Lineup—FSV Mainz 05—21st minute (4-3-2)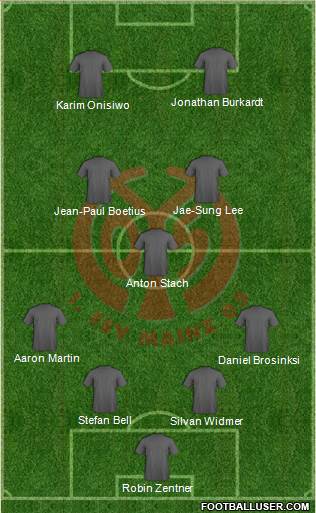 The decision to start Widmer now really comes into play. Whatever one's personal opinion of the matter is, we do live in a five-substitute-age. Svensson had the opportunity to undo his early mistake, perhaps by immediately bringing Nemeth on for Brosinski. The columnist will take a stand here and say that an early sub would have been the better move.
Brosinski–sitting on an expiring contract–is in the process of undergoing an unpleasant divorce with the club. Widmer may be far better suited to play wingback than fullback, but he's certainly most unsuited to work the center-halve slot on a shorthanded team. We would find this out later. The Nullfünfter head-coach made an error here.
Leipzig's offensive polish did actually dissipate. The constellation above earns plaudits for quality instances of collective defending. The case of RB's sputtering attack remained more of a self-inflicted matter. The next chance came in the Mainzer end in the 22nd. Adams took Onisiwo (who had touch issues all afternoon) off the ball.
Lee had the Pfälzer back on the march in the 24th. An decent out-swinger to Brosinki got wasted when the makeshift right-back's cross proven wholly insufficient. Onisiwo, Lee, and Broskinski then couldn't get on the same page during a rightward cycle in the 25th. The unfamiliar trio failed to grasp who was ultimately supposed to cut into the inside lane. A final ball into the box ended up meeting no one.
In the very same minute, Mainz had another opportunity following a bad giveaway from Adams in midfield. Burkardt picked up the ball and was off to the races. Luckily for Adams, Klostermann occupied a conservative position; one from which he could bail the American out with a recover on Burkardt. Adams himself recovered to run a leftward drive in the 26th.
None of the RB actors wanted to break into the box, however, and Kampl eventually flashed well over. Two more RB attack sequences in the 26th and 27th were extraordinarily poor. All of the positive impetus that that Tedesco's men had built up in the opening quarter of an hour simply disappeared. The team had no problems capitalizing on the man-advantage when it came to getting forward.
Shockingly enough, one watched as RB actor after RB actor passed up wide open shots. Not a great deal of legitimate football going on in the next few minutes. Silva popped a very lame and tame cross in the 28th. Orban, Simakan, Adams, and Kampl chased themselves back on an insipidly stupid cycle in the same minute. Mainz missed a glorious chance to catch the Saxons off-guard when the ball went out of bounds.
Instead of taking a quick throw right next to their box, Svensson's men called in Aaron Martin from 20 meters away. An unfortunate miscue. Another tentative build from Leipzig at the half-hour-mark. This time Adams and Simakan screwed up their coordination. A duck-shot vertical for Angelino in the 31st was never going to work. Szoboszlai's follow up ranged effort from just outside the 18 was easily deflected. Gvardiol overcooked another service in the 32nd.
With nothing much working on the break, it looked as if Tedesco's German Red Bulls opted to take a bit of a break themselves between the 32nd and 38th. During the initial stages of this spell, there were some tightly contested midfield duels amidst plenty of possession changes. The Pfäzler then laid off the pressure and the Saxons tried little other than full lateral switches for a very boring three-minute-stretch.
A little more creativity from the likes of Kampl and Adams in the 37th. Still no chances to note. By the 38th, the hosts were chasing their own tails with backward cycling again. They got forward on the left after a quick-touch-sequence on the left in the 39th. The final diagonal for Silva was awful. Burkardt tried in (comically) vain style to burst through four defenders on the one Mainz counter in the 40th.
Match Flow: 41st minute to half-time
We got a rare and interesting scene just before halftime on a pretty random play. Aaron Martin ran after a loose ball that happened to squirt in the Mainz penalty area in the 41st. Poulsen also chose to contest the ball with a high-boot. The Dane didn't catch Martin, but referee's discretion allows for a match official to sanction such actions as "dangerous play".
Aytekin–a very competent match official–showed that he knew his rulebook with the appropriate writ: the very rare indirect free-kick inside the box. This obviously constituted a huge chance for shorthanded Mainz to get back into this game. It also counted as a massive moment for tactics fans. What did Svensson have in his playbook for this occasion? The right play could make all the difference.
The design we ultimately saw didn't look like something practiced. Only a feint on the take. Anton Stach drove the ball straight into the wall and Gvardiol cleared. That play served as the last matter of interest before halftime. Leipzig got a few more charges in. All of them reminded one of Tedesco's post-match comments following the Bielefeld blanking.
This team wasn't trying to score. It wasn't going to score.
Your halftime xG stats?
xG Leipzig–2.0, xG Mainz–0.1
The Rheinhessen get the 0.1 solely based on that indirect free-kick in the box. Although one can argue that Zentner made a pair of quality saves, Leipzig's 2.0 mostly relates to favorable plot points on the multiple (limp) approach plays. Were were in effect just discussing numbers similar to this in the round ten bulletin.
One critical difference is that it's too early to start blaming the coach here. Bear in mind that it something like this will become more relevant should Tedesco's Leipzig not accomplish their "catch-up work" and start climbing the Bundesliga table. We still have a team with serious finishing problems.
Match Flow: 46th to 49th minute
For the first time in quite awhile here in the tactics column, we're covering a game that has a "lid". Football writers sometime use this term when covering a match that ends early. If one team puts the game squarely enough out of reach early, the rest of the action becomes irrelevant. As you can infer fro the scoreline/timeline here, RB's 4-1 victory qualifies as a "lid" match. There was a moment at which it was all over.
Technically speaking, that juncture didn't come until just after the hour mark. Observers were rightly feeling that it would come eventually, given Mainz's ten-man status and the first-half xG. Having it confirmed that Tedesco could indeed turn to Christopher Nkunku off the bench reinforced the premonition. That's the difference between a €500 million club and a €100 million one.
Nkunku came on for Poulsen.
We saw the following re-format.
Lineup—RB Leipzig—46th minute (3-4-3)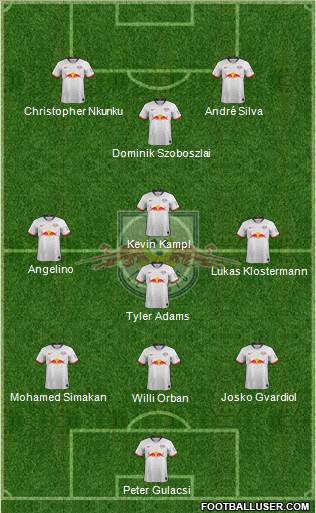 Probably game, set, and match precisely at this point. Tedesco flattened out the back three in order to place them on a collective press. Adams slipped behind Kampl to get his own space. Szoboszlai, Silva, and Nkunku inched closer together to form a true attacking trident. The 2-0 took just over 60 seconds to achieve, though VAR confirmation meant it would be recorded two minutes later.
The story of the scene surrounding Dominik Szoboszlai's goal is actually pretty hilarious. We've got all the details covered in a separate article on the incident here on Bulinews. Important for our purposes here, it needs to be noted that (as good as the finish) the tally came courtesy of some flukish occurrences. Szoboszlai was actually the initial missed target.
Match Flow: 49th to 57th minute
The goals nevertheless  came thick and fast once Sbososzlai opened up the spout. Nkunku nearly scored twice in the 49th and 50th. In both cases the prolific French attacker, reserved for limited use after exiting COVID quarantine late this week, was a little bit amped up after waiting to get back into the game during the opening 45.
He was literally tearing the pitch to shreds with his studs, only missing out on the back of the net by virtue of the fact that he couldn't quite figure out which dazzling finish he wished to employ. One could tell that it was really looking dire in the 50th. Adams hit Angelino with a gorgeous full lateral switch.
The unchallenged Spaniard had time and space to point Szoboszlai to the direct route he wanted the Hungarian to run. It's not exactly common to see that. Unfortunately, they still ended up getting in one another's way. This happened again in the 51st. Widmer, by this point totally frustrated, had no cause to empty the tactical foul, but did anyway. The ad-hoc central defender was beginning to break.
Szoboszlai's intricately bent free-kick didn't miss by much. A trend towards a more playful and creative Leipzig attack continued. They were painting around the Pfälzer with ease now. Widmer got beat badly by Nkunku in the 53rd, barely recovering. Adams and Kampl kept the ball away from the increasingly stretched and tired opposition with trot-lateral dribbles in the 54th and 55th.
After Gvardiol somehow missed a golden opportunity for the 3-0 off an Angelino cross in the 56th, Mainz pulled a goal back from nothing on a genuinely ugly looking counter. It was nothing more than stutter step nonsense until Oninsiwo pulled off a nifty dummy fake shot and pulled back for Lee in the box. The South Korean atoned for an earlier ball loss on the play and slotted home for the 1-2.
Match Flow: 57th to 61st minute
The spine snapping response came less than a minute later. Absolutely no one on Svensson's back line was paying attention as Szoboszlai slipped through the ranks and played a wide-open Nkunku through. The Frenchman finally had his goal to accompany the assist to Szboszlai when presented with an opportunity that he simply couldn't overthink.
More frustration fouls from Aaron Martin, Stefan Bell, and Widmer before Silva officially put the "lid" on the game with his 61st minute tally. The back-line was again too out of sorts to challenge Nkunku as the Frenchman sliced through them to set up his Portuguese colleague's brace. Game officially over.
Match Flow: 61st minute to full-time
In terms of the match itself, there is literally nothing more to tell. Svensson ordered everyone back to the penalty area in order to avoid further humiliation. The Saxon hosts had zero reason to take any sort of risks. Both coaches burned subs to make the time go faster. Aytekin showed his class as a referee as well by forgoing injury time.
In terms of the conclusions one can draw from this, Svensson's litany of mistakes remain the real culprit here. A columnist generally positive on the Mainzer trainer can scarcely believe he just wrote those words. It was still undeniable. Svensson selected the wrong personnel, didn't adjust with a sub when he needed to, a probably should have had a deeper set-piece playbook entering this one.
As a result of this, we have a 4-1 Leipzig victory that conceals its own lies. Tedesco's RB displayed a lot of continually endemic problems in this one, particularly when it came to finishing. One must emphasize that they should have put the shorthanded side to bed much earlier. The squad remains far from top level.
Ultimately, that might not matter at all. Tedesco finally took this one by the throat because he had the luxury of bringing a fresh-legged Nkunku on at the break. A team so deeply stacked can always fall back on the brute force angle. The upcoming fixture list: Stuttgart, Rostock (Pokal), and Wolfsburg theoretically means that they can they can turn this error-strewn performance into a four-game win streak.
So it looks to be that Leipzig will very likely get their "catch up" work in. We've learned that in our first round back from the short break. The right win at the right time needn't be perfect. This one certainly wasn't. It simply must come. The only thing stopping the coming Leipzig run are the concealed truths we've discussed. It might be the case that they're soon all forgotten. At least they've been documented.
RB had some serious luck when they began their climb back.
Thanks so much for reading! You can occasionally catch Peter goofing off while watching the lower German football divisions on twitter, @ViceytheSS.
There's also a celebration of AFCON going on all month long on Peter's irreverent fan blog. 
Twitter DMs are open for football conversations, corrections, and (if you truly insist) general abuse. 
All columns debut on Bulinews before appearing on Peter's website later in the week.