Ahead of a New Year and the 2021/22 Bundesliga "Rück-Runde", we've some catch up work to do here on the profile website; three Bulinews tactical columns to be precise. Next up, it's the wildly entertaining midweek fixtures of one of the Bundesliga's rare "Englischer Wochen". Spritely Danish attacker Jesper Lindstrøm is so new to the Bundesliga that we didn't even have an action shot of him available for the hot-sheet over at Bulinews.
No such worries on a re-post. Take a bow, young man! Or at least give another surging and deserving teammate a hug!
…and the Eagles take flight. Let the Bundesadler soar!
---
Bundesliga Tactical Banter: Round 16
---
On Bayern Dominance
As winter begins (slowly this year) to set in across continental Europe, that can only mean one thing. Sure enough, it's time for this columnist to complain about the deplorable state of the VfB Stuttgart pitch. It's a winter tradition. As it so happens, it's coming early this year. The snows may be late in many places, but the Swabian pitch looks horrible well ahead of schedule. Absolutely have to love how this club never figures it out. The playing surface always invariably looks as if a bunch of medieval serfs just completed the turnip harvest.
Truthfully, that's about all one can say about Bayern's 5-0 demolition of Stuttgart. What else is there to say? The writer could bore you a bit about the latest news concerning Stuttgart front office politics, but even he's not interested in the petty squabbles of Claus Vogt, Thomas Hitzlsperger, and Sven Mislintat anymore. Suffice to say the whole organization is a mess. Speaking to the press after the defeat, VfB trainer Pellegrino Matarazzo remarked that "As stupid as it sounds, we can learn some positive things from this". Agreed. That does sound pretty stupid.
We didn't learn terribly much from the match that allowed Bayern to easily clinch the "Herbstmeisterschaft". A lumbering giant of a team squashed a kitten. Sad. Even the German press had to reach pretty deep for news. Robert Lewandowski tied Gerd Müller's record for number of goals in a calendar year with his brace. A "calendar year"? We weren't even finished with the Hinrunde at this time last year! Oh leave the poor dearly departed bomber in peace!
On BVB/B04 Wobbles
Lewandowski does get some good company in a goal-scoring competition that actually means something. The race for the Bundesliga's Golden cannon is very much on after both Erling Haaland and Patrik Schick secured braces in their respective midweek matches. It's getting just a bit nuts for Leverkusen's Czech target man. Another brace makes it eight goals in the last three fixtures for the 25-year-old from Prague. With 16 tallies on the season, he's only two behind the world's best striker despite having played three fewer matches this season.
Comically enough, a Schick brace once again proved insufficient for Germany's red company team to take all three points. The lead-striker scores eight. The team's record across that span literally reads: win, lose, draw. Leverkusen-Hoffenheim was among the round's most entertaining fixtures and a draw seemed a fair result. Of course, at a certain point one lost count of how many times each team hit the post so arguing the hypotheticals gets very thorny.
Some late earned luck for Hoffenheim, combined with our general column thesis that Munus Dabbur is just an awesome footballer, means that die Werkself shouldn't let their heads hang too low at letting the victory slip away. Dortmund probably don't need to waste time on navel gazing either following their surprisingly tense graze past Fürth. The 4-2-3-1 did precisely what it was supposed to do. Even if attacks only came in spurts, it held the underdogs in check. Fürth hardly saw a chance.
With his brace in the 3-0 victory, Haaland is only three behind Schick despite playing three less fixtures than the Leverkusen front-man. Haaland remains six tallies behind Lewandowski, but he has played six fewer games. All of this goes to show what a role injuries have played in the current make-up of the table. If the Polish (ahem, deserving winner of the Ballon d'or) goes missing, the FCB have issues too. Anyone remember PSG last spring?
---
The Burning Questions: Round 16
---
When will Bo Svensson get a draw up?
He's gotten plenty, though the columnist will be the first to admit that he hoped to be drawing up more Mainz tactics boards this season. The thing of it is, after Bo Svensson got his tactical constellation sorted out late last season, he hasn't really changed it. One's still looking at the same basic 3-3-2-2 (3-5-2 or 3-4-3 in subtle interpretative tweaks if you'd prefer) that he's consistently been relying upon.
The coach has a system and the capable front office team of Christian Heidel and Martin Schmidt ran the summer transfer window with the direct aim of bolstering it. There was definitely luck involved, but Mainz remain a wonderfully instructive example of how to build a football team properly. It's textbook. Perhaps, with that in mind, we can give the Rheinhessen a draw-up. The system remains the same. New actors are nevertheless important.
Why not provide a refresher?
Lineup—FSV Mainz 05—Match Six (3-3-2-2)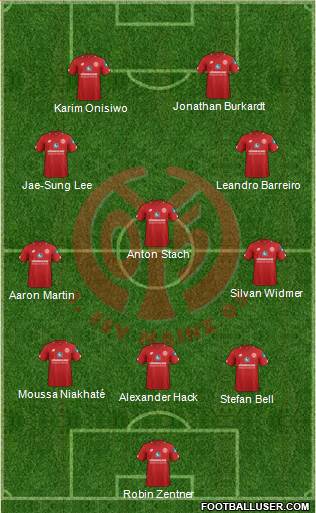 The same basic constellation, albeit with a slightly more aggressive posture and some personnel upgrades. It reminds one a lot of what Urs Fischer and Oliver Ruhnert are in the process of accomplishing over at Union Berlin. With an open mind towards organic progressions within the arrangement, throw most of one's efforts into building around the structure.
Wingback enhancements
The idea this offseason was to replace Danny da Costa and Phillipp Mwene with Silvan Widmer and Anderson Lucoqui. Important to note that backup plans were also in place should anything go awry. Lucoqui's form struggles and subsequent injury didn't slow the team down. The Nullfünter had veteran support behind the new arrival in the form of Daniel Brosinski and Aaron Martin.
What Svensson has done with the one-time disaffected left-back is particularly impressive. The central midfield connector meant to keep the ball moving between the flanks was (and is) extended Frankfurt loanee Dominik Kohr. Heidel, Schmidt, and Svensson nevertheless had their eventual replacement Anton Stach picked out this summer. Thrust into the limelight a little early following Kohr's injury, the Germany U21 champion is doing excellent.
A more creative second/third axis
Leandro Barreiro and Jean-Paul Boetius still log their fair share of minutes, but there's no denying that the long-term goal was to get the more inventive Jae-Sung Lee in behind the striking tandem of Jonathan Burkardt and Karim Onisiwo. The 29-year-old South Korean international's latest form is definitely worth a look. He played a crucial role in those two early goals that put Mainz up 2-0 in the 4th minute against Wolfsburg in round 14.
Lee got a chance to score his own goal this round, heading home the opening tally in the 19th minute against Hertha. Widmer assisted. He very nearly returned the favor with quick set-ups for Widmer later on. The 4-0 result came nowhere near being reflective of how many chances Mainz had on Tuesday. Stach also had another brilliant game, officially recording only one assist on the scoresheet despite producing potentially many more.
How it clicks
As the German onomatopoetic expression goes, everything will eventually fall into place with the "zack, zack, zack" sound. We're witnessing that with Svensson's retooled XI now. They have had more than their fair share of substandard performances as of late, but the signs point to these players getting more comfortable/playful with each other.
Something of a shame that the team has to break now, as Stach and Lee currently build an excellent understanding. It's also worth noting that Svensson's bench develops a devastating feel. Boetius scored in relief this time. Marcus Ingvartsen (two goals off the bench) and Kevin Stöger (one) came close. Adam Szalai can still prove a late game-changer too in his current form.
All this doesn't necessarily mean that Mainz can be tipped for anything other than a stable mid-table finish. As the season's halfway mark approaches, the Pfälzer Carnival club looks to be right where we thought they'd be. The roster boasts quality; just still not enough to avoid bad days on which they're overmatched. Note that a win against Frankfurt on Saturday could radically alter this prediction.
Top Seven at Christmas makes a world of difference.
Why are Wolfsburg relegation candidates?
Florian Kohfeldt Does a writer truly need to insert a full batch of hyperlinks again? This grows tiresome, not to mention time consuming. The number of times Kohfeldt's tactical incoherence found mention in the last three years leaves to total body of work bordering on dissertation-level volume. One could start a "Department of Kohfeldt" studies at this point, simultaneously launching a peer-reviewed journal for all those seeking tenure.
In the interest of cutting straight to the point, we'll keep ourselves limited to this season first. Back to Kohfeldt's original appointment at Wolfsburg. We'll revisit the writer's section on Kohfeldt on Halloween weekend 2021. Fitting that the former SV Werder Bremen trainer reappeared in the league during the "scary season". In sheer terror, the columnist likened Kohfeldt to famous Hollywood serial killer Michael Myers.
Spooky stuff. It sends shivers down one's spine.
The point made back then didn't take long to turn into a proof. After a brief Honeymoon Period, the team simply stopped responding to the young trainer's conflicting and confusing directives. It we may flit further back in time, Bundesliga watcher were never particularly impressed with Kohfeldt. The 39-year-old peaked far too early in his career. In the autumn of 2017, he took over an underachieving Werder Bremen side and did a mediocre job with a great deal of talent.
Then came the "German Young trainer of the Year Prize". Should you find yourself asking, "the what now?" resist the urge to be hard on yourself. That award isn't to be confused with Kicker Magazine's "German Coach of the year" award which has been received by Jürgen Klopp, Thomas Tuchel, Hansi Flick, Jupp Heynckes, Ottmar Hitzfeld, Dieter Hecking, and Joachim Löw. No, this was a different award. It lasted ten years. Nagelsmann and Tuchel won it once. Otherwise, it honored the likes of Hannes Wolf, Markus Kauczinski, Norbert Elgert, and Hermann Gerland.
Kohfeldt was the final trainer to receive it in 2017 before Kicker Magazine opted to scrap the whole thing. It looks as if they scrapped it one year too late as it elevated a very average coach way above his status. Kohfeldt then garnered false credit for keeping Bremen in the league with what many acknowledged was a bare bones roster. What does Kohfeldt do when he has real talent to work with? Well, he does this. Total mismanagement of his defensive corps. Sebastiaan Bornauw heralded as the team's savior in central defense when John Anthony Brooks maintained the better form.
There's evidence galore from this week's loss that Kohfeldt doesn't have a clue what he's doing with that change. Bornauw, having already been subpar in his two starts since replacing Brooks, Bornauw repeatedly blew his markings and couldn't clear the ball out of the area. Everyone in the back-four committed careless errors all night. On Modeste's decisive game winning goal, neither Bornauw nor Maxence Lacroix felt responsible for guarding Köln's main threat.
Insipid squad selection. Totally illogical and unnecessarily lineup choices and we're not even going to get to the totally flaccid attack in this column. Kohfeldt is the problem and it will get worse. Schmadtke has no choice to back him now and choices in an upcoming crucial January transfer window will be made with his less than stellar input. Horrible choices from manager Schmadtke. Last year, Jörg earned plaudits as most effective German football administrator of the year mostly because he didn't interfere. He has now and its been a disaster. Welcome to the relegation race, Wölfe.
Does Bielefeld's win mean anything?
Full disclosure: This is a recycled question. We posed it back when the Teutoburgs last won a match back in round 11. Frank Kramer's DSC secured their second win of the campaign with a surprise 2-0 victory over a VfL Bochum side that many of us have come to respect. Regrettably, much as the writer wishes to say that the race against automatic relegation will get a bit more interesting, this win may mean even less than the last one.
VfL trainer Thomas Reis made some questionable defensive rotations. He replaced two of the players in his back four and, as a result, the 1848ers committed an avalanche's worth of errors in the first half. Meek Arminia couldn't even punish their guests for all these mistakes. Erhan Masovic and Thomas Losilla–parts of the back-five who should have been rotated out–were too tired to focus.
Christian Gamboa–who shouldn't have been in XI at all–was at fault on the first goal. Normally solid VfL keeper Manuel Riemann let in a howler on the second. Both of Kramer's wingers (Masaya Okugawa and Patrick Wimmer) got on the scoresheet. That's positive. Assuming they don't beat Leipzig, 13 points from the Hinrunde sure beats the 7 that Schalke and Mainz had last year. It's still not good enough.
Would love to be surprised here, but it looks like a long stay in 17th place. At least we'll get some more great scenes at the Alm before the "Graue Maus" scampers back into their hole in the wall. Then it's back to arguing whether Bielefeld truly exists or not. That's always fun.
What's to report from the two duds?
There's actually been a very small number of low-scoring draws in the Bundesliga this year. During this packed midweek round of matches near the end of a long and grueling autumn, it was inevitable that we'd get some year. Leipzig and Augsburg couldn't be separated in a 1-1 contest before empty stands in the Swabian section of Bavaria. Infinitely more disappointing, cult-clubs Freiburg and Union didn't score any goals before 5,000 fans at the Stadion An der Alten Försterei.
Leipzig first. Domenico Tedesco's Saxons circulate the ball well and have some more confidence in possession. From a straight optical perspective, RB remain a fun team to watch. That finishing touch still lacks, something Jesse Marsch somehow unfairly caught the flak. Christopher Nkunku and André Silva should have had the game wrapped up. When Tedesco lost both Konrad Laimer and Mohamed Simakan to injury at the break, it took them approximately twenty minutes to find their stride again.
Angelino and Silva then missed more opportunities before Benjamin Henrich's silly handball penalty allowed Augsburg to equalize from the spot. It may be far too early to judge, but Tedesco's Leipzig doesn't exhibit any striking differences from Marsch's. It's still the same story. Good possession phases. Blown chances. Still no wins away from home this season. It's unclear what they hope to accomplish with this change. Tedesco runs basically the same system and the players have the same problems. It's like trying to solve a crossword puzzle with a new pen.
At least Leipzig-Augsburg gave us something. Union-Freiburg proved a real heartbreaker. It was basically a rugby style scrum, both teams banging around in the box hoping for some sort of flukish goal. They nearly got one during a crazy ping-pong scene in the 65th/66th. Union came closest, but were by no means the better team. Some bad misses in the 0-0 from Taiwo Awoniyi and Woo-Yeong Jeong. Bad news there as Germans really like both of these players and their recent form dips have been hard to watch. Oh well. They can't all be sparklers!
---
Weekly Tactical Focus: "The Battle of the Coaching Carousel"
---
Bundesliga lovers didn't have to ponder too long when selecting which midweek fixture to circle this round. Köln-Wolfsburg, as expected, delivered as an absolute cracker. For those with a hopelessly irrepressible voyeuristic streak, the result and Anthony Modeste's post-match interview satisfied the deep, dark cravings within. Fair enough. Some us football fans are a little more honest about about our fascination with a club train-wreck than others. This writer holds that pretty much all of us slow down to look at the flames engulfing derailment at some point.
Frankfurt-Gladbach, on the other hand, really wasn't about voyeurism. Superficially one might think it was. Two head-coaches at the very center of the offseason's coaching carousel have gotten off to inconsistent starts with their new clubs. Neither Adi Hütter and Oliver Glasner could find a way to get their clubs into third-gear. Both have undeniably underperformed in their new appointments.
Obviously, something had to give with Hütter's old club rolling into town. Hütter's foals have shaken it into second-gear for more than one false dawn, but have been in absolute free fall since dropping the derby away at Köln in round 13. Since Köln, Hütter's BMG lost two more on the spin. Thanks to that historic 0-6 Freiburg spanking and last week's 1-4 loss at Leipzig, Gladbach entered this one outscored 14-2 in their last three.
Many of us are of the opinion that Glasner's SGE are stabilizing in their newly stabilized in their new 3-6-1. True, the Eagles have only lost two of their last ten. The fact that this run included very poor defeats to VfL Bochum and TSG 1899 Hoffenheim–plus that very unearned-feeling win over Freiburg in round 12–leave most of unconvinced that they truly are a stable team. The SGE retain a certain fragility to them. It's a tenuous balancing act at best.
Still, it definitely wasn't about voyeurism. It's remains far too early in the season for a relegation six-pointer. If the columnist is as brutally honest about the two coaches as he is about his own voyeuristic tendencies, neither of these trainers should be in danger of losing their jobs. Gladbach's collapse comes courtesy of nothing more than a confidence decline. Hütter maintains the talent the fix it and should prove capable of doing so.
No voyeurism. Just good old-fashioned Bundesliga football; football in which every duel counts for two sides fighting desperately to claim that extra bit of belief in themselves. Two of German footballs grand historic houses. Two of the 2021/22 campaign's most gorgeous classic-style kits. Two talented squads hindered by confidence issues, yet poised to breakthrough in at any moment. What more could you possibly want?
Well, if the columnist is brutally honest for the third time in this introductory section, a better first half would have been nice. A lot of viewers probably switched off after the opening 45, or fell asleep altogether. Confidence issues indeed. They were both terrible. No worries. If you missed out on the second half, we've got you covered here on Bulinews.
Lineup—Eintracht Frankfurt—Match 16 (3-6-1)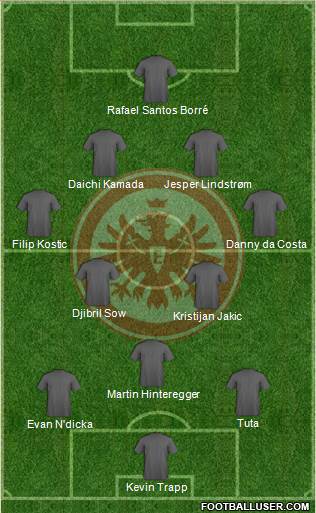 Our discussion of this match begins with where these teams are currently in terms of development. Glasner finds himself back in his old Wolfsburg January/February/March 2021 habit of changing absolutely nothing. This is the exact same team that lit it up against Leverkusen on Sunday.
What heats up: SGE
This 3-6-1 needn't hide under any false pretenses. There is no rotation between top axis striker Rafael Santos Borré and the double-tens of Daichi Kamada and Jesper Lindstrøm. The Japanese international and his young Danish companion clearly work a distance behind the Colombian center-forward. We always knew that Kamada and Lindstrøm were fast and inventive, but they've really started to gel in the past few weeks.
Kamada has long served as one of the Bundesliga's most fascinating players. Working in Adi Hütter's double-ten set-up last Spring, Kamada found a compatible partner in Amin Younes. Right. We all know what happened there. Hütter and Younes being long gone, the matter of Kamada's new colleague took a while to settle. In hindsight, we'll probably all forget that he worked alongside anyone but Lindstrøm.
There you have one of those things that seems obvious in hindsight. Another interesting facet of Glasner's SGE concerns the fact that Borré often stalls with the ball, drawing coverage while the two tens rush ahead of him. Defenses have loads of problems coping. That's another one of those little features that seems like it's a natural striker ploy in place for a while. Not the case. It's new and came after all manner of zany experiments.
What cools down: SGE
Not terribly much, really. Martin Hinteregger being fit enough to run pivot helps a great deal. It came as something of a shock to see Glasner push Kristijian Jakic back onto the pitch when the Croatian midfielder's injury status flashed read. Perhaps the SGE trainer didn't want to risk the chemistry of his double sixes in such an important match. Djibril Sow's red hot form isn't to be tinkered with. In any event, Jakic predictably had to be subbed off.
It ended up not mattering as Glasner's anointed club captain Sebastian Rode stepped in and did an excellent job. Another issue that some may point to as a problem area concerns (naturally) the team's over-reliance on Filip Kostic. German football circles swarm with facts about Kostic's crossing. Did you know that the Serbian has hit more crosses than most teams combined? You should also know that it doesn't matter. Most teams don't have an answer for him either.
That leaves us with the right-wingback position. The much beloved Timmy Chandler having struggled to produce from that spot lately, we've gotten Danny da Costa in the last two matches. If anything, results have worsened. It gives the columnist no pleasure to report on that either as Chandler and da Costa are two of his all-time favorites. Erik Durm along with disaffected players Adjin Hrustic and Aymen Barkok don't really work there either. Say hello to the most pressing transfer market need.
Shall we look in on Adi?
Lineup—Gladbach—Match 16 (3-4-3)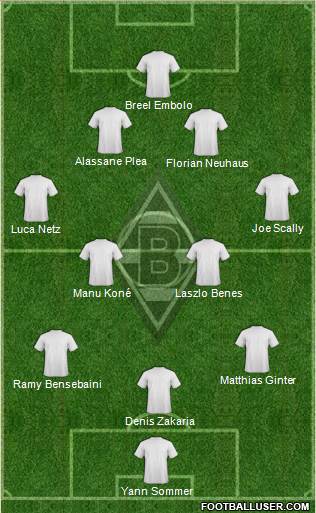 The loss of Nico Elvedi (stomach bug), Jonas Hofmann (knee surgery), and captain Lars Stindl (yellow card accumulation), the Fohlenelf gaffer had to make a few adjustments. Marcus Thuram not being up to full strength yet, the prolific French talent also took a seat. Your four new players are Florian Neuhaus, Luca Netz, Alassane Plea, and Laszlo Benes.
What heats up: BMG
That bunched together top axis carries with it enormous potential. Picture it with an in-form Thuram slanted left and a healthy Jonas Hofmann slanted right. In contrast to the labelled 3-6-1 of Frankfurt, one has little choice to label this a 3-4-3 because full rotations are built in and expected. It arguably should have worked much better than it did.
Apart from that, Luca Netz and Joe Scally (in time) can really open up play once they get the timing of their switches. The two don't often start together as the young American's development has far outpaced that of his German counterpart. The dynamic young duo nevertheless gave us an interesting taste of what's to come after more targeted drilling.
The potential of the duo ended up fading in this one. Scally had problems getting forward after the early goal. Note that the young U.S. lad had the unenviable task of marking Kostic. The CFG New Yorker had a legitimate excuse for not coordinating well with Netz, or so claims a potentially biased source.
What cools down: BMG
If one truly insists on docking Hütter for his tactics, having Denis Zakaria hold the back-three on an inverted pivot didn't constitute the best idea. The Swiss midfielder can usually slide into the defensive ranks without major problems, but his instinctual need to plow ahead box-to-box often gets the better of him. Such an occurrence in this match cost the foals a confidence sapping goal.
Otherwise, one can see what the idea was here. Despite their young age, Scally and Netz have a good sense of when to locate spatial lanes forward. The trio of top can crash in for multiple opportunities on the break for rebounds. Manu Koudio Koné (on a good day) also interprets space very well and can easily cut through a high press. Koné ended up having a very bad day. The Frenchman may be the one candidate in this XI for a medium-term drop out after the break.
Match Flow: 1st to 6th minute
As noted above, we've a torrid and turgid first-half to get through. At least the encounter broke some of the early monotony to get off to an interesting start. Neither team looked up for midweek football in the opening three minutes. A long-ball aimed far too long for Borré went out for a goal kick; one that Yann Sommer took his sweet time setting up. Perhaps knowing that his team needed some time to get warm, the man safeguarding the captain's armband tended to the ball as if it were a floral arrangement.
A few Eintracht rushes (all down the left) ended in either throw in throws or goal kicks. Scally, Neuhaus, and German national team defender Matthias Ginter had the hot corner covered and executed some nice blocks. Kostic and Kamada did manage to cycle around Scally in the 4th, but it just produced another goal kick. After a brief injury timeout for Benes, Breel Embolo got forward after a suspect clearance from Tuta enabled the foals to break. While the BMG attacker was stymied, Koné latched onto a half clearance and played Netz in on the left.
A suddenly scintillating play led to the first goal. Netz switched for Scally and the American had the presence of mind to head back to an onrushing Neuhaus. The man who kicked off Gladbach's slumping streak with that passing error in round 13 took and excellent first control touch and fired home. This could have been huge. Neuhaus single-handedly reversed the downward psychological trend he initiated with a fine early goal. Everything pointed to the foals fighting their way out of their difficulties.
Match Flow: 6th to 28th minute
Alas, nothing came of the potential "sweet redemption" narrative. Glabach were probably the slightly better team during this phase, but the momentum didn't carry over. Mostly neutral midfield action in the three minutes following the goal. Kamada and Kostic cycled around Scally again in the 9th and the Serbian pulled off a nice square at the tail end of the sequence. Sommer anticipated the move well and came out to collect. The NRW hosts answered with a pair of decent cycles down Scally's side in the 10th.
Hütter's men tried to pass back and bow-arc over to Netz's side in the 11th. The German youth international gave the ball away to Tuta, but the SGE defender couldn't get a cross near anyone but Sommer. The high Frankfurt press then prevented some remarkably uninventive Gladbach press from going anywhere. Koné hit the turf (and not for the last time). Both the hosts and their guests played attack sequences while he writhed around. Finally, the ball got played out into touch in the 13th.
Scally had no problems chasing down a cross for Kostic in the 14th. Kamada nevertheless unleashed the Serbian again. Zakaria ended up gaving the ball back to Lindstrøm. The Dane's poor finish went into the 73rd row. Some slow approach play from Eintracht in the next two minutes. Da Costa tried to mix things up with an insipidly slow straight vertical run in the 16th. That at least got the ball to Borré via Kostic. The play produced nothing of note other than the fact that Gladbach, shockingly, didn't feel confident enough to challenge a player who looked like he was running with a piano on his back.
Scally got his own shot on target in the 18th after Embolo skillfully worked a ball into him central. The American peeled off a powerful effort that Trapp had to be perfect to save at full stretch. It wouldn't have counted anyway as Scally was well offside. Embolo got the ball out wide to Scally again in the 19th and the New Yorker played back straight to Plea's feet. An awful finish from the French striker went well over.
More unimaginative attempts to hit Kostic deep left from Frankfurt in the next two minutes. Scally and Ginter handled the pressure with solid aerial wins. The SGE then tried more straight lateral moves at the halfway line. Embolo got a nice round of applause from the crowd in the 21st when he opted to take Hinteregger on and chased the Austrian all the way to the far left touchline. That was a nice little piece of football.
Lindstrøm took a chance down the SGE right in the 22nd, meeting his match in the form of Bensebaini. It was at least a sign that the Dane was willingly to try something different. He did skip past Netz neatly on the play. Da Costa headed over from the resulting corner in the 23rd. One minute later, Lindstrøm ran another nice attack on the Frankfurt right. His ultimate target, Kamada, was regrettably offside.
Kamada got dispossessed on the next attempt by the Frankfurt tens. Ginter quickly got a counterattack rolling with a switch over to Embolo. Hinteregger flagrantly hauled Gladbach's Swiss striker down in a move that match official Martin Petersen somehow didn't deem worthy of a booking. The ref did allow advantage play and Neuhaus furthered for Plea in a good position. Trapp made another one of what would be many spectacular saves on the day. A pity we can't use his picture again so soon.
A little bit of action from the ensuing corner. Hinteregger won the aerial battle on the ensuing service, but the clearance only went as far as Koné. The French midfielder got off a good effort that Trapp made seem a tad easier to deal with. Jakic then signaled to the sidelines that he couldn't continue. The injury break didn't take all that long. Possibly prepared for this eventuality, Glasner had Rode warmed up and ready to enter by the 28th.
Match Flow: 28th minute to half-time
The SGE's true squad skipper appeared eager to make an impact and there were some great wins from him in the next three minute. Unfortunately, that's about all we got during that passage. Hütter evidently ordered his three CBs to spread out wide. We all watched a series of godawful back-build possession recycles. Rode's job wasn't all that difficult. At long last, Netz gave us something in the 32nd with a set-up for Embolo. The drive went well wide.
Following some languid back-builds of their own, Eintracht managed to punch through in the 34th. Kamada hit a surprisingly wide-open Kostic (Scally was nowhere to be found) in stride. Sommer barely cut out a ball headed for Lindstrøm. Kostic blazed past Scally again two minutes later. This time Bensebaini came to the rescue and one could hear the BMG players shout "C'mon Joe" in an unusually quiet Borussia Park. Gladbach got their act together and looked significantly better on the ball between the 36th and 39th. They still generated no chances.
Lindstrøm got taken down rather controversially in the 39th. There had been a number of stoppages and clear attempts to draw referee Petersen into the match. The veteran ref clearly didn't want to take the bait. It was such an obvious ploy from two teams stuck in a rut of bad football to force the issue. After waving away the challenge on Lindstrøm, however, Petersen couldn't ignore a straight shot to Bensebaini's neck from Tuta in the same minute. Petersen produced his first yellow card. We would get three more cautions before the half was out.
Two more minutes of foul stoppages. Two more blocked Kostic crosses as well. A nifty back-heel from a forward driving Evan N'dicka in the 41st nearly set of Borré. The service proved just a tad too imprecise. The Colombian kicked Benes in frustration on the next play and entered the book himself. Embolo received a caution one minute after that for a totally unintentional foot stomp on Rode. This suddenly shaped up to be a very lousy game indeed.
With the level of play degenerating so exponentially, we seemed destined to head into the tunnel with Gladbach clinging on to a not entirely undeserved lead. Then, out of nowhere, the equalizer came. Zakaria opted to carry the ball out of the back himself for no apparent reason. He was dutifully stopped by Sow, who then snapped a quick-witted vertical onto Lindstrøm in the box. The Dane then squared for Borré, who simply slid the ball in unchallenged.
What?!? Zakaria left his comrades hung out to dry. Scally, Ginter, and Benes were in the area, but apparently (like many members of the viewing audience) fallen asleep. Even Borré seemed surprised by the goal. The Colombian looked over to the linesman, fully expecting the tally to be disallowed for offside. He wasn't offside. Behind Borré's back, Ginter kept him on by not paying attention.
1-1. Goals for each side. xG?
xG Frankfurt–0.3, xG Gladbach–0.1
Duh. Well. At least it wasn't going to get any worse.
Match Flow: 46th to 49th minute
It got better. Of course it did! Be advised that we have more highly questionable officiating to deal with during the rest of this match. Petersen really took the bait. Mercifully, the ref didn't end up unduly affecting the outcome all of the bad calls balanced out and offset each other. Fans of Manu Kouadio Koné may not be particularly fond of our treatment of him in this section. Be advised of that as well.
Matters got off to a physical start with Embolo and Hinteregger colliding on a rough shoulder-to-shoulder air challenge in the 46th. Embolo immediately went to Petersen to score sympathy points. One had the feeling that a penalty call would be forthcoming. The initial Gladbach builds were very much of that wide CB spread variety. Accordingly, they were pretty putrid.
Eintracht snatched the lead back in the 49th on what was actually a very entertaining sequence. Stymied on the right, the SGE retreated for a recycle via their own center backs. This one made the BMG look like absolute fools. Glasner's men showed Hütter's crew how it was done. N'dicka picked up on the right and crept into the box. The lost and insecure hosts didn't challenge him wholly well, but it was a clever little slow-roll dribble.
After nonchalantly strolling all the way toward the touchline, the Frankfurt center-halve then cut back for Lindstrøm. The Dane (completely wide open) thundered in a nice finish off the underside of the crossbar. Plenty of lapses in concentration from the apprehensive-looking foals. Coy skill from all involved SGE actors was nevertheless quite apparent.
Match Flow: 49th to 55th minute 
Gladbach were definitely not responsive in mounting a response. They tried to work flank runs on both sides in the ensuing minutes. Eventually, Ginter unlocked Netz on the right in space. The BMG wingback took a few deft touches before playing Koné into the box. Here comes the controversy. Koné went down far too easily after the slightest touch from da Costa. A disgraceful dive! Petersen was sadly fooled.
Bensebaini converted the 52nd minute penalty and we were level again. Not for long. In a lovely little prompt piece of poetic justice, Hinteregger uncorked Kamada with a positively radiant diagonal. Eintracht's ever exciting Japanese attacker then upped the aesthetics by playing a gorgeous one-two with Borré. Kamada ultimately finished over Scally, who looked about as bad as he did against Moussa Diaby in round two. Oops.
Officially, the tally got recorded in the 55th. That's because no one chronicling this match could hope to keep up. Kamada's strike really came in the 53rd. We all needed some time to get our bearings. Gladbach obliged by looking totally rattled, passing the ball out of bounds like a bunch of Sunday League semi-intoxicants for about two minutes.
Match Flow: 55th to 70th minute 
Man, did the hosts ever take a beating during this phase. Even neutrals will have found these minutes painful to watch. As soon as play resumed, Borré was allowed to hold a ball for three full seconds. No one dared get a challenge in while the SGE tens raced forward. Lindstrøm found himself similarly unmolested on the eventual forward ball and powered a thunderous effort that only missed left by a few yards.
Seconds later it was Lindstrøm again off the post from close range. Seconds after that it was Lindstrøm again! Good God, Gladbach were on the ropes. The Dane unfortunately took one touch too many before going for goal. Sommer saved easily. That was still three chances for the Dane between the 56th and 58th. In the lead up to the final chance, Koné tried to draw another foul diving despite a clean ball win from Rode.
Petersen wasn't interested in the clear simulation. Kostic and Kamada got the ball to Lindstrøm yet again at the hour mark. Bensebaini threw in a block at the last second. It didn't change the fact that the hosts were completely collapsing. When Lindstrøm ran another rush in the 61st, this writer was just about to give up and stick straws in his hair. How the hell was this happening? The Dane's cross for Borré proved too high.
On a midfield scuffle in the 62nd, Petersen got it right. He booked Koné for kicking Kamada. It happened to be the Frenchman's fifth yellow card of the season.  He'll be suspended for the final league match on Saturday. Good. It wasn't a hard foul at all, but an appropriate give back for that soft penalty. Lindstrøm and Kamada ran circles around the completely discombobulated BMG defensive corps on another rush in the 63rd. Kostic's final effort was blocked.
Hütter got on a pair of subs in the 64th. Thuram and Christoph Kramer relieved Neuhaus and Benes. These were initially like-for-likes with a slow tactical reorganization intended once he could get the next sub on. One could tell that it would be Patrick Herrmann; an attacking winger most likely coming on for Scally. We'd have to wait and see how it would shake out.
The one way traffic continued. A cross from Kostic was simply too imprecise in the 64th. Embolo, in pure desperation, screwed a range effort horribly wide in the 65th. Thuram and Kramer were able to influence proceedings somewhat by interrupting the SGE flow central. There was a brief period of relief during which the foals earned a free kick in the 67th. Netz delivered well, but Thuram headed over.
Before the 68th was out, however, the hosts were getting cut open again. Kamada was through unmarked and had Borré wide open on his right. The SGE man opted for the shot this time and was cut out from a tight angle. Back the other way in the 69th, Tuta hassled Thuram a bit too much for Petersen's liking. It wasn't the smartest of challenges, but it also wasn't totally malicious.
In any event, Petersen deemed it worthy of a booking. Tuta, knowing full well what was coming, tried to walk away from Petersen. As even the young Brazilian surely knows by now, that trick doesn't exactly work. Petersen finally caught up with him and sent him off on double yellows. Gladbach had themselves a lifeline.
Match Flow: 70th to 84th minute
Glasner didn't make the most brilliant tactical adjustments. He didn't really have to as his team proved capable of holding their own against this scrambled mess despite the man disadvantage. It was ludicrous. Frankfurt were running 3-vs-2 breakaways immediately after the sending off. Somehow, the SGE managed to screw up two sure goals on a pair of counters in the 71st and 72nd.
We got another booking shortly after the second chance when da Costa opted for a bicycle-kick clearance that hit Thuram in the face. Can't say that one wasn't deserved. Glasner got his sub on in the 73rd. Defender Makoto Hasebe for lead striker Borré. The re-format was obvious.
Lineup—Eintracht Frankfurt—74th minute (4-3-2)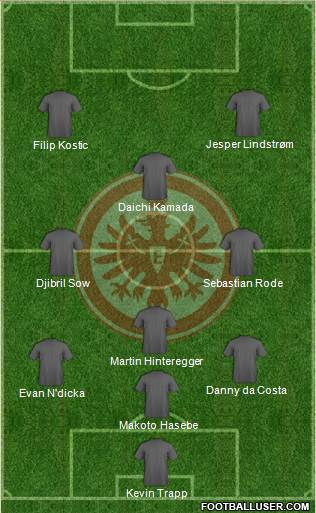 A sensible diamond back-four, for sure. It was nevertheless a little risky to keep Kamada, Lindstrøm, and Kostic as the three forward deployed players. Many will have expected Gonçalo Paciencia; now a late match specialist with a proven capability for holding the ball up. A striker who can do this ordinarily proves quite useful when reduced to ten-men.
Thuram knew just where to strike and he created some serious problems down the SGE right over the next couple of minutes. Netz missed a good switch from the subbed on Frenchmen in the 75th. Hütter seemed content to wait to complete his shift. Gladbach were awarded a free kick in the 76th and we finally got Herrmann for Scally.
Lineup—Gladbach—77th minute (3-5-2)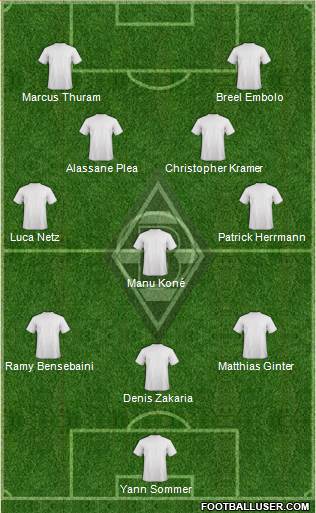 The set-piece produced some danger. Thuram eventually hit Kramer with a nice cutback in the 78th. After the SGE nearly railed off a counter on the blocked shot, we saw the formation above settle on the next BMG build. It was a good gamble. It produced some results.  An advanced Ginter got a header on target in the 79th, serviced by a crisscrossing Kramer on the pull-back.
Thuram also obliterated da Costa on another quick drive in the 79th. Hinteregger swooped in to save. The foals were able to build pressure in this constellation. Kramer and Ginter combined again in the 81st. Trapp stood tall with an amazing save. Hütter's spread of the strikers continued to work. Zakaria and Embolo got it out wide to Thuram in the 82nd. Hasebe made the last second save. Bensebaini then hit a header wide on the ensuing corner.
Thuram again had the equalizer on his foot in the 83rd. This time N'dicka got the last-second boot in. Believe it or not, the momentum was headed back in Gladbach's direction. Glasner tried to jam proceedings with a double substitution in the 83rd. Christopher Lenz and Aymen Barkok took over for Sow and Lindstrøm.
Match Flow: 84th minute to full-time
The final re-format made a bit more sense in terms of how one expects a trainer to set-up with ten men. He still didn't bring on a striker, but at least vertically aligned two actors in the center so as to have some players capable of stalling with hold up play. It worked reasonably well.
Lineup—Eintracht Frankfurt—85th minute (4-3-1-1)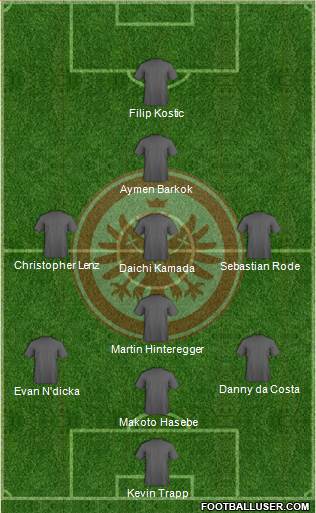 Some more last ditch defending from Hasebe (85th) and Hinteregger (86th) kept the pinned back guests from conceding the equalizer. Bensebaini missed another header in between. Trapp made a pair of nice saves in the 87th, then skillfully fisted away a corner. He was marvelous. Again, such a shame that we already used his picture this year.
Barkok did a really poor job with an 88th minute counter, but still got Kostic the ball. Sommer parried well this time. Thuram was through again in the 89th at the other end and cut back for Ginter. Trapp made another amazing save. The SGE keeper then collected a well struck corner in the 90th. Whew. This was getting intense. Frankfurt were shaking in their boots. An equalizer was still possible.
Lenz got rightfully booked for trying to sit on the ball in an unsportsmanlike time-wasting technique at 90+2. Petersen allowed for the match to go to 90+5. Herrmann forced Trapp into another monster save at 90+4. Sprinting over to take the corner himself, Herrmann serviced Ginter perfectly. A diving block from N'dicka sealed the deal.
xG stats?
xG Frankfurt–2.4, xG Gladbach–2.1
Much, much better. Also much closer than some might have guessed. Hütter's foals have only themselves to blame. The periods during which they completely lost control also remain inexcusable at this level. All of that notwithstanding, they did gather themselves and fought back well against all odds.
What a match! The Bundesliga at its best. A true classic in which neither side gave up entirely. There were wild momentum swings, questionable officiating calls, and even some overt attempts to cheat. So what? The footballers on this pitch brushed it all off and gave us a show anyway.
The fact is that both of these teams are fairly strong. It's reasonable to assume that they'll both find their feet at some point. The SGE and BMG should factor into the top-seven race this year, certainly not the relegation one. One can't forget how many genuinely bad teams we have in the Bundesliga this year.
On the topic of things people may be tempted to forget, it's very unlikely that Adi Hütter's job is in jeopardy. Recall that Max Eberl spent €7.5 million on the former Frankfurt coach; a sum that was briefly a record. It's difficult to conceive of the club simply writing off that investment. They don't have to either, as the team can easily get rolling with a bit more confidence.
As to whether they have time to do that before the final 2021 "Hin-Runde" match against Hoffenheim on Saturday, one could place the odds at about 50-50. That one, along with many others, could be an instant classic too. Frankfurt may have technically won "The Battle of the Coaching Carousel", but one could also call it a draw based on what Gladbach were facing and how they pulled themselves back from the brink.
It's not over for these teams. They will both climb. Look forward to the re-match on the season's penultimate matchday.
Thanks so much for reading! You can occasionally catch Peter goofing off while watching the lower German football divisions on twitter, @ViceytheSS.
Twitter DMs are open for football conversations, corrections, and (if you truly insist) general abuse. 
All columns debut on Bulinews before appearing on Peter's website later in the week.