When introducing the re-post of this week's hot sheet over at Bulinews, we might as well note that everyone is hoping mad. It's all a conspiracy!
Except for the fact that, of course, it isn't. So much to love about the beautiful game. Such a shame when it gets tainted by the ugliness of mob mentality. It's a "mad, mad, mad world."
Perhaps we can get over it via examination of the facts involved.
---
Bundesliga Tactical Banter: Round 14
---
"Slick with Schick"
Even if Leverkusen's Czech lead-striker didn't prove much of a factor last week, his return still counted as fairly big news. By now, everyone should know why. What a goal explosion that was. Even if it came against Fürth, one must tip one's cap to Patrik "Slick" Schick; the man who with each bicep flex draws closer to Robert Lewandowski in the race for the Golden Kicker Cannon. Despite all the flexing, the 25-year-old isn't merely a big target man. He brings to Germany's red company team a more complete package that totally alters their dynamic.
We saw last week how important the forward can be as a link up player, an intimidating wall presence on set-pieces, and a top-notch ball shielder. The talk of most strikers being able to "hold the ball up well" is far too often all talk and no walk. Schick walks the walk in this regard. His mere presence also means that head-coach Gerardo Seoane can deploy the 4-2-3-1 (5-3-2 revert against the ball) that this team is specifically built for.
Karim Bellarabi's return also gives Seoane the winger rotation that he needs. Bellarabi in the league. Amine Adli in Europe. Florian Wirtz and Kerem Demirbay logging split minutes in the ten-slot. Lucas Alario relieving Schick when he needs a creative breather. It's all coming together and we haven't even begun to discuss the return to fitness of the right defensive actors. Edmond Tapsoba finally played a good match. Man, was that ever needed.
"Freiburg's Dapper Don"
"Slick" seems to be the word of the weekend emerging out of the Bundesliga. Many matches, including the marquee Bayern-Dortmund duel, were played in heavy downpours. Very rainy weekend in the Bundesrepublik. The clouds had cleared a bit by Sunday, but the goals still rained down in Gladbach as visiting Freiburg made history by dismantling Adi Hütter's foals with the fastest scored six goals in Bundesliga history. Wham. Bam. It's back up to fourth place for Germany's cult-trainer man.
One can certainly credit Christian Streich for this amazing victory. It was the Breisgauer trainer's idea to switch to a back-four, replace the finish struggling Woo-Yeong Jeong with Ermedin Demirovic, move Lucas Höler back to a support striker role, and give Vincenzo Grifo and Kevin Schade the start on the inward-pulled flanks. Four of the six goals also came off dead-ball situations; a fine testament for how well Streich drills his lads on the training pitch in the lead up to each match.
Alas, the "Dapper Don" referred to in the header is not Streich. No. We rather refer to one of Streich's protégées; a certain Italian from Pforzheim with a penchant for sportsmanlike play. Vincenzo Grifo recorded a hat trick of assists in the victory. Three of the four set-piece goals came off Grifo's finely-tuned services. The 28-year-old "cult player" finally broke through with a match befitting of his slick haircut. Lifelong Bundesliga fans couldn't be happier to see him turn in a monster match. Wham. Bam. It's back to the title race for "cult-Baden" man.
"A Salute to Grinders"
Nothing particularly slick about what we saw from Bochum and Augsburg this weekend. The 1848ers rushed out to an early 3-0 lead at Augsburg, in essence fulfilling the promise Milos Pantovic made to the fans about the team performing better on the road last week. Bochum have a lot to be encouraged about following Sebastian Polter's impressively ruthless brace in the opening 45. The team will have at least two quality strikers if Simon Zoller can make it back.
Thomas Reis' 5-4-1 nevertheless lost its shape in the second half and looked far less disciplined during Augsburg's late comeback. It was still another massive win for a team that not too long ago looked destined to be sent straight back down. One still wouldn't call it the most emphatic of victories. Likewise, Bielefeld's hard won 1-1 draw against Köln wasn't pretty at all. That fixture was pretty rough on the eyes; only locating some aesthetic grace through the post-match interviews.
So it goes sometimes in football. Grind it out rather than delight the house. Applause remains in order because we have a pair of rough-and-tumble teams that look set to make the relegation race exciting on our hands. Bochum have put themselves six points clear of the drop. With a continued upward trend, Arminia could possibly catch up to the likes of Stuttgart or Hertha if they can't get a grip on things. Based on what we saw from those two clubs this weekend, there's a chance that might happen.
---
The Burning Questions: Round 14
---
Must we discuss Hoffenheim again?
Yes, it appears that we must. A second successive draw up cannot be avoided. We'll try to keep it a bit shorter this time, in large part because Germans don't want to spend too much time on the Sinsheimers. Their performance in the most godawful conditions of many rain-soaked Bundesliga pitches this weekend nevertheless can't be ignored.
The Kraichgauer proved slicker than the slippery pitch.
Lineup—TSG Hoffenheim—Match 14 (5-3-2)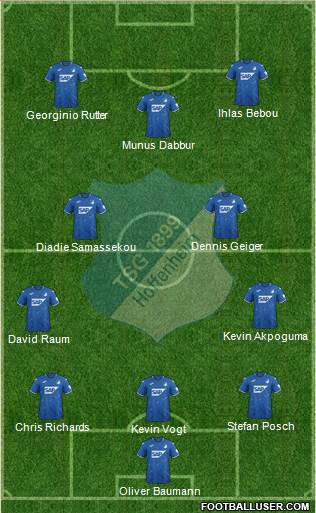 Loads of differences from last week in this wide shape, deliberately conceived so as to enhance distribution against the opponent. Perhaps this looks a bit familiar. TSG trainer Sebastian Hoeneß returned to the spread shape he used earlier in the season for no apparent reason. Some of the new features remain, and it was them that made the difference after Hoffenheim fell behind early to Oliver Glasner's new static formation.
The league's best false nine
It's almost as if this team doesn't need Andrej Kramaric at all. The Croatian star can take his time coming back from injury. There's no need to worry about the star striker's impending departure in the summer. Hoeneß is already preparing for it in the form of one of the Bundesliga's quietly kept best secrets. Munus Dabbur–the January 2020 transfer window's reserved acquisition has it covered.
There are often many well stashed secrets in sleepy little Sinsheim. Dabbur has frankly been sensational on a team few like to watch. His work on Dennis Geiger's equalizer in this one was outstanding. His movement and rearward passing in the last three fixtures have him on a red-hot form run. Keep an eye on the unassuming Israeli.
Samassekou's new role
Speaking of well kept secrets in the Rhein-Neckar region, Diadie Samassekou scored again. The Malian defensive midfield specialist earned his maiden Bundesliga tally just last weekend. Now he has a second courtesy of a gorgeous distance effort that ended up being the game winner. Just as is the case with Dabbur/Kramaric, Hoeneß is grooming Samaseekou to be the replacement for the likely-to-depart Florian Grillitsch, who you'll note isn't in the lineup.
Clever no? See? That wasn't so bad. We talked a little Hoffenheim and no one got killed. That's all for the team Germans prefer to ignore. Okay. Perhaps not all. One quick plug for American defender Chris Richards, who made his return to the lineup and sealed the 3-2 victory with several crucial late stops. He was awesome. More on that in the next column!
How is Kohfeldt fouling up Wolfsburg?
Like only Florian Kohfeldt can. Didn't we try to sound the alarm about this some weeks back? Those damn dramatic triple changes at the half. Surely this writer couldn't have been the only one experiencing harsh Werder Bremen flashbacks over the weekend. The pangs of gratuitous tinkering. We felt them long before the half. As soon as Mainz rushed out to that 2-0 lead, we knew it was coming.
Kohfeldt's normal 3-4-3 had its early issues, but wasn't totally malfunctioning. Paulo Otavio–the one rotated in player–committed the early error and everyone switched off on Anton Stach's incursion in the 4th. For the rest of the first half, the Wolves built up a crescendo forward. Ideas were lacking. The proper accents still could have been located.
Did Kohfeldt respond by perhaps pulling Otavio for Jerome Roussillon or maybe bringing in Maximilian Philipp for Aster Vranckx? Of course not. He had to pull John Anthony Brooks, Maximilian Arnold, and Ridle Baku out for a totally disjointed system.
Lineup—VfL Wolfsburg—46th minute (5-1-4)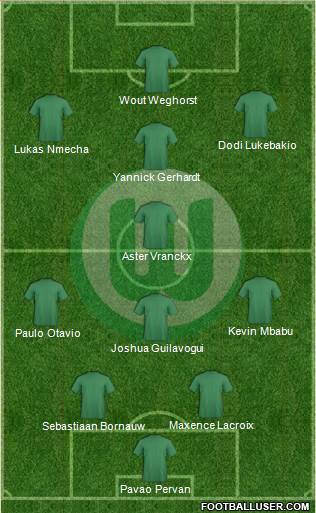 Moving Vranchx back as the pivotal midfield go between only made the front four less compelling. The young Dutchman had to deal with too much as a link-up actor. Otavio–who showed no signs of improvement–made more mistakes building out of the back. Presence in the opponent's third was achieved, yet Germany's green company team continued to look totally harmless.
Did Kohfeldt attempt to address the stress placed on Vranckx or maybe freshen up his flanks a bit via Renato Steffen? Of course not. We got an even more toothless half-attempt at a double-stacked attack in the final ten minutes. The whole team slumped their shoulders until Maxence Lacroix turned into his own net for the 0-3 near the full-time whistle.
Lineup—VfL Wolfsburg—58th minute (5-1-4)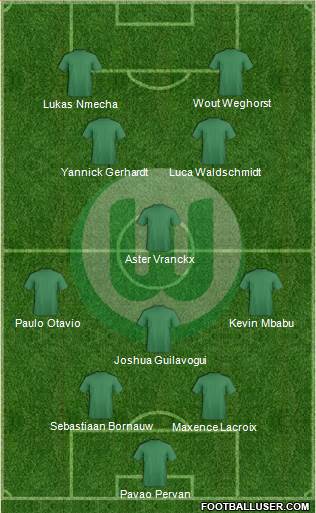 If one wishes to make a late push, Arnold, Brooks, and Baku are players that one should definitely have on the pitch. Kohfeldt needlessly depleted his options by taking three of his reliable playmakers out at the half. Hopefully, others noticed this completely botched personnel mismanagement. A quintessential example haughty Kohfeldt trying to get too clever for no reason.
Weren't we just discussing a coach without a clear plan for this club? The last shift reminded one of that detached Guilavogui 5-2-3 that van Bommel was running not long ago. Die Wölfe have had a very poor string of four matches. Kohfeldt is even alienating his best players through misuse. This is why we were so negative about him at the beginning.
The 39-year-old desperately needs to take a step back at let his players do their own work. It's not inconceivable at all that he won't last the season with this type on in-reaching. The race for the top four slowly slips away.
How was Korkut's debut?
A familiar face for many German football lovers. Hannover 96. VfB Stuttgart. Very brief spells with 1. FC Kaiserslautern and Bayer 04 Leverkusen. The capital city's perpetually ill-fated side's latest attempt to right the ship got a chance to coach his debut match in his hometown of Stuttgart and the team he contributed to the demise of during the 2018/19 relegation campaign.
There's no such thing as Bundesliga enthusiast not fascinated by Hertha's plight. We're all curious. How did Tayfun [TYPHOON] Korkut do in his first match leading the "We try/We fail" club?
Lineup—Hertha BSC—Match 14 (4-4-2)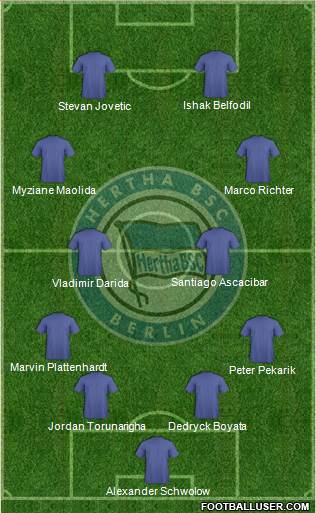 A fairly safe attempt to build a basic structure 4-4-2. One had high hopes for it upon seeing the team sheet. The team's top defensive pairing of Jordan Torunarigha and Dedryck Boyata have so rarely had the chance to play together during the past two seasons. They actually ended up looking disorganized and performed very poorly throughout the match.
A better team than Stuttgart would have put this match to bed early. Korkut's initial XI got off to a terrible start. Slow. Lumbering. Appallingly bad marking on the counterattack. Thanks to Stuttgart's own weaknesses, the Charlottenburgers were slowly able to work their way back into the match. Kevin Prince Boateng managed to make some positive contributions off the bench for once and Stevan Jovetic located some luck on his equalizing brace.
A 2-2 draw seemed a fair enough result for two teams that mostly played pretty bad football on the day. This was by no means a dynamic debut for the new trainer. There's clearly a lot of work left to be done. Those expecting a quick turnaround should quickly curb their hopeful aspirations. Despite a few bright spots, there's quite a bit of snowed-in crap to shovel out of.
Ordinarily, a new head-coach provides an almost inadvertent and automatic boost to a team. The Germans are often fond of saying "a new broom sweeps well". Not in this case. Korkut's first match left plenty of dust bunnies on the kitchen floor. Maybe Fredi Bobic needs to consider buying a dust-buster.
Did Jesse Marsch deserve to lose his job?
This is an "analysis/commentary" section, meaning that we're dealing with opinion here. Having got that out of the way, we'll also need to note that the writer of this column is a dual German-American citizen with his own set of proclivities. Despite whatever biases the reader might think are at work, this writer wasn't necessarily the biggest fan of Marsch's work. Every Leipzig fixture in league an Pokal is chronicled in the "Americans in the Bundesliga" column appearing here on Bulinews. 
Should anyone care to peruse all of this seasons graded sections, you will find that the reviews are largely mixed. Marsch made many questionable decisions and, perhaps more importantly, didn't seem discerning enough in his quest for answers. As he meandered between loosely connected systems, general coordination of the team never reached a convincing level. There were some instances this year where it appeared on the cusp of working, but the team ultimately attained neither a stable nor confidence inspiring level.
All of that notwithstanding, the column's general opinion holds that this wasn't a smart move. To begin with, how cold and clinical is it to fire a coach whilst he's in quarantine? So much of what happened with RB this season wasn't anywhere near remotely Marsch's fault. Bayern plucked the club's best players and their coach this offseason. The multiple COVID blows and the Dani Olmo injury really handicapped the American's ability to piece together a system.
The fact that Leipzig lost their sporting director this season and Oliver Mintzlaff dragged his feet in finding a replacement has nothing to do with Marsch. The current chief executive of the club will have some difficulty finding an internal replacement within the RB system after he just sacked the last one he found on somewhat spurious grounds. We're remain some time away from the "Administrative Scorecard" section generally released in the spring. Rest assured that Mintzlaff is in line for a poor grade.
It's difficult to see where Germany's Saxon club goes from here. They've done themselves a most unnecessary disservice by making this change when there wasn't really any need for such impatience. Even if Marsch didn't have the act together just yet, he could have likely ridden the talent on this team to a top four finish. That's not necessarily a forgone conclusion for whoever takes over next. The incoming gaffer has to start all over again and we may not see results for weeks.
Germans will be pleased to know that there's very likely an open Champions' League spot for a traditional, fan-owned club. With fate being a cruel mistress indeed, it might be Hoffenheim that takes it. Damn. The pleasure doesn't last too long, does it?
---
Weekly Tactical Focus: Nine times unlucky?
---
Our "focus" section this week fearlessly dives into German football's most uncomfortable topic. Emotions run high amongst us all as we consider the implications of nine straight Bayern victories over their nearest/second richest challengers. Note that, when discussing Dortmund's losing streak against Bayern, this column includes the two DFL Super Cup losses.  Tons of controversy in this emotionally charged affair. We won't tiptoe carefully around it either.
Everyone's upset. Of course they are. They have every right to be. Football would be nothing without passion and this constitutes some genuinely lousy news for German football in general. Dortmund are out of the Champions' League and now it looks like the title race is lost.Bundesliga lovers find themselves almost justifiably harangued by their footballing friends busting out the old "farmer's league trope". Our frustration requires an outlet. For some, match official Dr. Felix Zwayer appears an apt enough target.
Before we begin to take a look at this match, we must first calm down somewhat and take a look at it from a more impartial perspective. The crowning achievement of football's nascent data revolution provides us with a proper starting point. Like it or not, here come the xG stats. They remain relevant to many fixtures; at least much more so than our dislike of VAR and other modern aspects of the game.
xG Bayern–2.7, xG Dortmund–1.0
For starters, we have that. The German giants created more chances. This wasn't a victory handed to the FCB by some seditious forces outside the lines. They reaped the rewards of proper sowing. As we move towards the tactics observable to those who watched the quiet version of this match on a non-commentary overhead cam, there's more evidence that Julian Nagelsmann travelled to North Rhine Westphalia well prepared for the task ahead.
Lineup—Bayern München—Match 14 (3-4-2-1)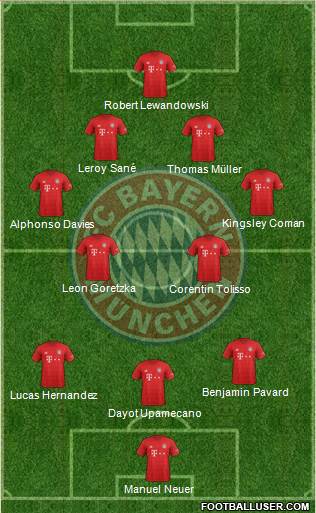 Only a couple of subtle changes to what we saw last week. We'll actually treat the two tweaks as a "split-decision". Both were well-intentioned, but it absolutely isn't the case that Nagelsmann outmaneuvered BVB head-coach Marco Rose. When we arrive at the story of the match, we'll get to that different nuanced discussion.
Specifics of the match plan #1: Flipping Sané
This was pretty smart. As fluid as Leroy Sané and Thomas Müller play in those close positions directly behind Robert Lewandowski, one could clearly see that the former carried with him some basic instructions to rotate with Alphonso Davies as much as possible. The FCB trainer stacked his two fastest lane-actors on one side to take direct aim at what might be considered the BVB's stronger flank.
This surprised somewhat. Given that Sané, in the position that he held last week, could have easily wreaked havoc on either a tentative Raphaël Guerreiro or a Nico Schulz in the worst form of his career, the fact that Nagelsmann went for the jugular counts as both brave and admirable. We'll stop well short of calling it ingenious as the next adjustment caused plenty of problems.
Specifics of the match plan #2: Reverse pivoting Upamecano
This nearly led to disaster. Nagelsmann's season-long project of shifting Bayern towards a more contemporary back-three has led to several stumbles. Even the young trainer himself might admit that he'd prefer a back-four until the trio of Dayot Upamecano, Lucas Hernandez, and Benjamin Pavard improve on their collective pressing. In the end, it's understandable that he stuck with it here, though inverting Upamecano probably wasn't necessary.
The risk taken by tinkering with the positioning of the three Frenchmen on the back line didn't pay off. We saw that immediately on Dortmund's opening goal. Joshua Kimmich's absence means that Nagelsmann operates with a pair of eights in midfield. He also, together with Corentin Tolisso and Kingsley Coman, has five Frenchman who all like to fly forward at once thanks to combo shouts in their native language.
A flat back-three would have been much safer. It also wouldn't have been Nagelsmann. Furthermore, one can make the case that it would have made for a significantly more boring match. We can be grateful that the young trainer opted for this risk despite the fact that it came close to biting him. Another topic of gratitude brings us to Rose's starting XI.
Rose's full-fledged gamble
Concern cropped up as soon as the team sheet was released. In Guereiro, Erling Haaland, and Jude Bellingham, we've three players returning from injury in the starting blocks; three players far from 100 percent who couldn't possibly be expected to go the full 90. Of course, it's not as if there existed a real alternative.
What can one honestly do when the season stands on the line? Athletes remain warriors expected to sacrifice life and limb. Put them out there and hope for the best! Ready or not, here they come.
Lineup—Borussia Dortmund—Match 14 (4-2-3-1)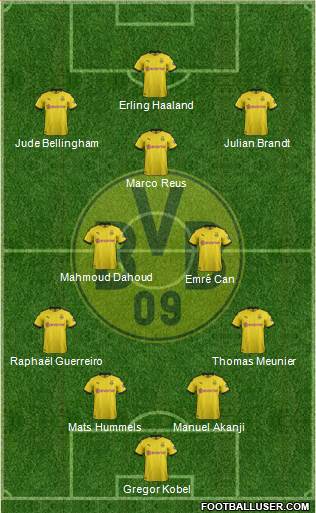 Pound-for-pound this constituted the best the Schwarzgelben could offer. One never likes to be right, but the midfield matchups we expressed concerns about last week ended up being decisive. Mats Hummels had an absolute nightmare match against his former team, but the problems nevertheless started ahead of him.
Dahoud/Can vs. Goretzka/Tolisso
The quality simply isn't there. Bayern currently function without sixes. So do Dortmund. Personnel-wise, the BVB have gone and done it again. The higher-ups never fail to make big splashes in the summer transfer market, both in terms of outgoing and incoming deals. What Michael Zorc and team routinely fail to do is build a balanced roster for the campaign ahead.
There isn't even the excuse of injuries to fall back upon here. The sale of Thomas Delaney at the tail end of the transfer window looms large. Neither Emré Can nor Mahmoud Dahoud count as appropriate holding midfielders. At this stage of his career, Can does better further back. Dahoud specializes in the centralized verticals. We saw them overmatched here, with Tolisso winning most of his battles against Dahoud and Can making multiple errors.
Guerreiro, Bellingham, and Haaland's form 
No member of this trio looked good in the first half. Guerreiro, who admittedly had some tough defensive assignments, struggled to establish himself. As a direct result of the Portuguese left back being pinned back, Bellingham basically roved out of reach on the left-ward cycles and barely got a touch in beyond that early assist. Haaland got even fewer touches, exhibiting poor timing when he did and having noticeable difficulty staying onside.
We've quite the match to discuss in full detail below. No sense in chastising either one of these teams for lack of effort. They both truly went for it. That's indisputable. An overall assessment of all the nitty-gritty details associated with the match, however, does seem to point to the result being largely fair. We'll get to why.
Match Flow: 1st to 6th minute
Full-throated commitment is what we got in this fixture's wild and crazy opening minutes. Both sides heaved themselves into the duels immediately. After two minutes of hard tackles and possession changes, Bellingham was the first to try and catch Neuer out of net in the 2nd. Germany's "sweeper keeper" was on hand to clear the danger. Upamecano & co. did a good job on the ensuing build. Coman dribbled past a few on the right, ultimately meeting his match in the form of Dahoud.
The hosting Westphalians produced their first promising counter already in the 3rd. Few will have forgotten that heart-stopping moment when Marco Reus sent in Haaland with that line-breaking slant pass and the Norwegian superstar had only the keeper to beat. When that keeper happens to be Manuel Neuer, one witnesses what we did. A spectacular run-out of from the "sweeper keeper", who delivered one of his own super-hero moves. Fantastic rush out and win from Germany's #1.
Dortmund got another hair-trigger counter going in the 4th. Out of nowhere, the Schwarzgelben had a 3 vs. 2 opportunity. This time Haaland couldn't find the right pass for Reus, who was also well covered by Pavard on the recovery. Bayern were looking very stretched. The German record champions found themselves caught out on a throw-in less than a minute later. The FCB weren't set on this play; the one that ended in Reus getting fouled and another quick free kick being taken.
Bellingham's flash of inspiration following the flat take saw the young English phenom angle in an inch-perfect chip that hit Julian Brandt in stride. Brandt's ball control proved sumptuously brilliant. The newly recalled German national team attacker shifted the ball in accordance with the momentum of his body, onto both feet in order to skillfully out-deke Alphonso Davies and fired emphatically into the top right corner. What an incredible goal from the 25-year-old! All across the Bundesrepublik, football lovers gave thanks to Julian for giving us precisely the start we wanted.
Match Flow: 6th to 9th minute
The response was not long in coming. Nagelsmann's crew tried again on the right in the 6th. Dahoud couldn't put up the right resistance this time, but Guerreiro managed to stop the effectively executed cycle. By the 7th, the league leaders were threatening from the other side. A gorgeous long lateral switch to Davies didn't remain on the "Bavarian roadrunner's" foot for long. Davies quick-touched to Sané, who in turn laid off for Lewandowski. The world's best striker saw his final effort blocked.
Lewandowski remained on the turf after the play, having caught an elbow from Thomas Meunier behind the action. Haaland gave chase to a long upfield chuck whilst the Polish attacker stayed on the deck. Play was finally whistled down after it was determined that Haaland's start came behind the FCB lines. Dortmund had the ball back in the 9th and were impressing with their spread possession game when a fatal error from Mats Hummels undid all of their positive work.
The first of Hummels' unforced errors on the evening wasn't the worst. It still left one gobsmacked at how such an experienced player could make such an amateurish mistake. Hummels had his head down when he played a launch ball directly into the path of an onrushing Thomas Müller. In a breathtaking battle of the German national team's recent recalls, Müller then held the ball up against Hummels on the defender's attempted track back. Dahoud helplessly tried to cover both Müller and Lewandowski on his own retreat.
Needless to say, neither BVB actor maintained much hope of stopping what eventually happened. Lewandowski never took his eyes off the ball, accelerating and braking with pinpoint precision movements until the time came for him to set his boot towards the leather. We were tied up 1-1 before anyone had a chance to catch their breath. It doesn't get much better than this, football fans.
Match Flow: 9th to 32nd minute
Any expectations of a slow-down were deferred during this next phase. Not a lull in sight as both sides traded jabs, straights, and outright body blows. A pair of high-press centralized builds by the FCB in the 10th and 11th kept the pressure on. The Bavarian guests were only stopped courtesy of full team shape collapses that threw every last BVB player in to close ranks. Rose frantically gestured for these from the sidelines.
Bayern were unable to capitalize when Müller forced another bad turnover from Bellingham in the 12th. Sané finally had enough of the pass builds and rifled a distance effort toward goal in the 13th. That tomahawk only missed by a few whisker lengths. The BVB tried to assert themselves after this brief, yet uninterrupted, period of dominance.
Lucas Hernandez put a stop to one charge in the 13th. Bellingham wasted a good Meunier win with a poor cross in the 14th. Dahoud did the very same thing in the same minute. Before the jam-packed 14th minute was out, Bayern were forward with a beautiful triangle build. Meunier–in the midst of perhaps his best match of the season–intervened and then kick started a counter at the end of which Upamecano barely edged out Haaland.
Dortmund responded with a nice cycle back in the 15th. Bellingham took down the out-swinger and drew a foul. The subsequent free-kick featured a nice design, but Tolisso still managed the away. The match's very first bit of sloppy play saw Sané turn the ball over in midfield in the 17th. Bellingham again got the ball on the left and again tried to draw a foul. This time Dr. Zwayer wasn't interested in what he rightly perceived to be an embellishment.
The Bavarians punched back with a quality approach in the 18th. Müller executed a brilliant leave before positioning himself perfectly for a return ball in the box. The German national team hero didn't do too badly on the half-volley effort either, which was deflected for a corner. Brandt got the set-pice away with a solid header in the 19th. Pavard sent the ball over when it got back to him.
Goretzka slipped on the wet turf, yet certainly didn't play for time during his treatment break. Leon was back up and moving in less than 60 seconds. He then combined with Coman well after an errant pass from Meunier gifted Bayern an opportunity in the 20th. Coman unfortunately slipped on a pitch finally beginning to show some strain in the light rainfall that had been consistently falling since kickoff.
Another BVB turnover gave the FCB another clear cut chance in the 21st. Sané and Coman got the ball out to Davies, who immediately ran into a triple team in the box. Can and Manuel Akanji kept tabs on the Canadian, nevertheless impressively getting back into position to block Müller's effort after a final cutback for Müller via Lewandowski. Goretzka and Pavard couldn't crash forward fast enough in time to get it back in the box.
The stunning third BVB giveaway in as many minutes should have probably led to the second Bayern goal. In lieu of all the controversy associated with this match, it's very important to note that the hosts committed numerous mistakes that they could have easily been punished for. Can made a shockingly poor capital mistake in the 23rd when he passed blindly (and directly) to Coman after Kobel played to him inside his own 18.
Somehow, Coman screwed up the opportunity. The Frenchman had a go himself despite the fact that Lewandowski was lurking wide open and onside. Bayern's star marksman slapped his hand to his forehead in disbelief whilst accepting a clear apology from Coman in the form of his facial expressions.
Meunier atoned for his earlier mistake by leading the Westphalians forward in the 24th. The charge resulted in a corner after Hummels just missed Haaland. The were a pair of edge-of-one's seat moments from the ensuing set-piece. Haaland twice tried to locate Brandt in the same manner Bellingham had earlier. The second hook came closest, but wasn't precise enough.
Bayern eventually reeled off a counter in the 26th. This counted as another great chance to take the lead. Sané did an amazing job running a 4 vs. 3 and Coman would have scored had it not been for a strong arm from Kobel. After the 2-1 was missed, Meunier broke the lines with some more good work in the 27th. More could have come from it absent some misplaced Dortmund passes at the end of the run.
Following a long laugh for Haaland that didn't work out in the 28th, Müller skipped past two in the 29th. The drive alone deserved a goal. Instead, a nice tap back from Lewandowski came to nothing when the German found himself swarmed and unable to complete the turn for the shot. Reus pounced and released Haaland on a counter before we got to the half hour mark. Unfortunately, the striker's dragged his effort wide at the end of the 29th.
The back-and-forth simply wouldn't stop. Lewandowski broke through on a dribble in the 30th after working an overlap perfectly. Can semi redeemed himself with a vital block of the Polish forward's hard close-range shot. Back on the ball, Dortmund tried to calm things down with a bow-arc possession spread in the 31st. Bellingham received the final ball and whizzed a shot over.
Lewandowski was through again in the 32nd, this time stopped by Hummels. Can and Reus tried to reach Haaland for another break. A decent ball thrown into Haaland's direction proved irrelevant as the Norwegian was offside. At long last, the seemingly impossible occurred. We got a lull.
Match Flow: 32nd minute to half-time
Nothing much doing during a series of stoppages between the 32nd and 34th. Some more bow-arcing on behalf of the BVB showcased quality approach play, but there wasn't memorable penetration. Upamecano stopped a few too obvious laterals and diagonals aimed directly at Haaland. We still had to deal with two more fouls in the 35th before open play got going again.
Dortmund and Bayern couldn't make anything out of a pair of free kicks. Müller uncharacteristically misfired badly on the latter one. Coman and Sané worked their way back into the box in the 36th on a nice give-and-go with no central actor at the end of it. A few more unsuccessful Bayern waves occurred before Akanji got Brandt moving forward on the BVB right in the 38th. Hernandez deflected Brandt's shot out for a corner.
Rose's crew actually ended up badly miffing a short corner and a lightning quick FCB counter should have driven a stake through the hosts' collective hearts. Gregor Kobel came to the rescue with his very own impression of the Manuel Neuer "sweeper keeper" thing in the 39th. Wow. The BVB's new keeper showcased precisely what the club paid for when signing him from Stuttgart this offseason.
Dahoud tried to send Haaland in again in the 40th. Once again, the Norwegian was offside. Tolisso and Müller did well on the next Bayern charge in the 41st. Dahoud found himself involved at the other end with a crucial defensive scrub-out for a corner. That served as another huge defensive play as Guerreiro was overcommitted and totally out of position.
Dortmund had their best chance to take a lead into the dressing room when Tolisso caught Reus with a tactical foul in the 42nd. Rose clearly ordered the best of his predesigned plays and Guerreiro clipped in a sweetly struck ball. The design sadly got wasted as Akanji started too early and the flag went up. From a 43rd minute technical error to 44th minute Bayern lead.
One can't feel sorry for Dortmund, even if the second Bayern tally came courtesy of a comedy of errors. Guerreiro did well to get a boot on a clearance after Davies, Tolisso, and Lewandowski tried random force throughs. The Portuguese fullback didn't mean to send a drive off of teammate Hummels' chest and the fact that the ball then fell to Coman was pure luck.
Coman's shot randomly deflected off of Reus. It still might have been deftly saved by Guerreiro if the BVB defender had just a few more centimeters of height. Guerreiro rushed all the way back to the line to clear and timed his jump to perfection. In the final analysis, he wasn't tall enough. Guerreiro cleared into the roof of his own net.
An ugly goal. Not an undeserved one. Neither team really wanted to play the one final minute of the half plus injury time, so Zwayer decided to blow a few seconds early. While little of relevance happened during the duration of the opening 45, the half-time xG stats are about as admissible a piece of evidence as it gets.
Ahem.
xG Bayern–1.7, xG Dorrmund–0.6
Sorry, BVB enthusiasts. Too many mistakes.
Match Flow: 46th to 49th minute
Without changes we continued. In wonderful defiance of the expectations that the second half would be played at a slower tempo, we got another delightfully rollicking start. The hosts did a fantastic job picking Lewandowski clean on the very first play. Reus led a nice charge in the 46th. Brandt did so as well in the 47th. Naturally, the real "super slickness" came in the 48th. Some sequence that was.
Meunier's cross proved better than Upamecano's attempt to deal with it. The all-too-casual chest down from Bayern's defensive linchpin went straight to Bellingham, but the English phenom demonstrated just why he's instinctually so good with the back-heel layoff for Haaland. The Norwegian didn't even need to ask for it. Bellingham knew where he was. Haaland's gorgeous beautifully bent bowing finish was truly something to behold.
Match Flow: 49th to 61st minute
We were level again thanks to some genuine brilliance on behalf of the BVB youngsters. Bellingham demonstrated his box-to-box talent with a brilliant stop of a Davies-Sané-Coman cycle in the 49th. Hummels then picked up his game with a lovely precision tackle on Lewandowski after Müller put him through in the 50th. Kobel cut out Sané–trying to sneak in behind after an excellent Müller-Goretzka one-two–in the 51st.
After a tame free kick from Sané in the 52nd, we got to the point in the match when officiating controversy began to creep in. Upamecano escaped punishment for what was a poor challenge on Bellingham. Haaland then got whistled down for a soft tackle on Hernandez. All of this happened one minute after Zwayer opted to reach into his book and show Emré Can the first yellow card of the match in the 51st.
This is undeniably the point at which the match went off the rails. Sensing that Zwayer found himself in a more active mood, the players and coaches started jawboning with the ref more in an effort to influence his decision making. The hotly disputed play in which Hernandez hauled down Reus in the box came in the 54th.
Perhaps unbeknownst to Haaland and others complaining about it, was that the play was not reviewable because Haaland was offside in the buildup. Moreover, after studying the replay, it's also clear that Hernandez gives Reus a shove in the back. To what extent this was forceful enough for Reus to go down in the manner he did remains questionable. It's also a moot point as Haaland was clearly offside.
Rose kept after Zwayer after the infamous non-call and was rightly booked for leaving his technical area in the 55th. Back in-between the lines, the midfield duels between the 55th and 57th make great viewing for those former footballers who can't get enough of the trench battles. Lord, is there a lot of unflinching valor on display there. On the second view, they work as an eerie portend of what was about to take place with Julian Brandt.
We're nevertheless not there yet. First, there's a monster save from Gregor Kobel in the 57th to note. Müller's service of Coman was sublime. The Frenchman's nutmeg of Dahoud was sick. Another insanely good reaction save from Kobel kept the match level. Back the other way, Haaland found himself twice stymied by Pavard after some very nice work by Reus and Bellingham got him into the penalty area.
A mis-step from Brandt in the 59th and attentive defending from both Upamecano and Hernandez on a pair of Haaland moves at the hour mark dissolved still more promising play from the BVB. We got our first substation of the match in the 60th, with Donyell Malen trotting on in place of Dahoud.
Match Flow: 61st to 74th minute
Rose's tactical shift was easy enough to infer. The objective of replacing midfielder with attacker clearly sought to get Bellingham off the wing. One knew what was going on before a few minutes of observation confirmed it. In the opinion of this writer, the real shame about this match is that we didn't really get a chance to see how it would work.
Lineup—Borussia Dortmund—61st minute (4-4-2)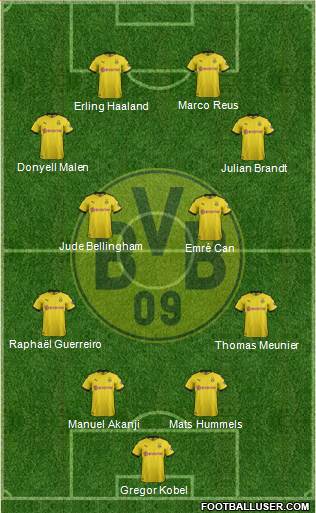 The implicit rotations of this probably had Reus dropping back into a short-striker role. That would have made the most sense and we did get to see something to that effect during the brief time that this got some action. Reus looked to be very high up on the next two BVB advances in the 61st and 62nd.
The Dortmund captain tore up the pitch on a fabulous individual run in the 63rd. Goretzka sent him flying off his feet with a challenge that was brutal, but fair. Kobel came out to gobble up the eventual Bayern counter in the 64th, once again doing his "improv night" Manuel Neuer impersonation thing.
Nagelsmann pulled the trigger on his own double change in the 65th. Jamal Musiala and Serge Gnabry checked in for Goretzka and Sané. Very little chance that these would be like-for-likes. After the long breaks that we shall discuss below, the Bayern shape looked like this:
Lineup—Bayern München—66th minute (3-4-3)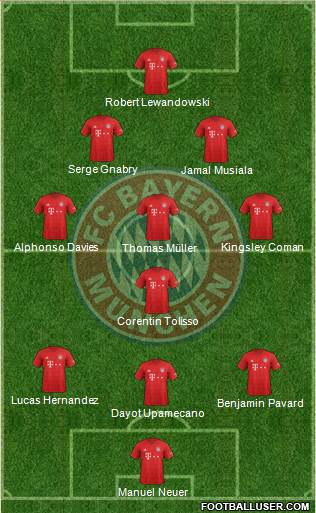 It's not uncommon at all to see Nagelsmann move Müller back and lock him on a horizontal axis late in a match. Tolisso had actually been steadily dropping deeper into a vertical lock ahead of the back-three since the restart. Irrespective of what Rose had prepared for his late-match adjustment, Nagelsmann was going to change to this if the proceedings remained competitive.
Naturally, we had to wait quite a long time for this to materialize as the harrowing four minutes during which Julian Brandt lay on the pitch while the medics frantically tried to revive him and get him into a turban. The team eventually got him off on a stretcher in the 70th, with Marius Wolf coming on to take over on the wing. Whatever Rose had in mind for Reus in a service role, the 4-4-2 would remain rigid after this unforeseen emergency.
In his first action of the game, Wolf let fly with a vicious effort that Hernandez blocked with his ankle in the 70th. The FCB defender then required his own treatment timeout lasting about three minutes. He would rise with gritted teeth in the 73rd. Bayern put together a nice combo in our return to action. Gnabry delivered the final ball to Coman, who was then dispossessed by Bellingham.
We then had to stop again to wait for Niklas Süle to relieve the hobbling Bellingham in the 74th.
Match Flow: 74th to 79th minute
More stoppages and more controversy as the Kölner Keller signaled to Zwayer that he should review Hummels' elbow away on the corner kick immediately after action resumed. It confounds this writer that many blame Zwayer for this review when it was the booth team that ordered it. The match official didn't catch anything on the initial play and was only alerted to the possible infraction by his colleagues.
The beef of the disgruntled belongs with the booth. To that we'll have to add that Hummels (screened by Bellingham) clearly stuck out his elbow. The decision was ultimately fair, though subjective disagreement is certainly understandable. Lewandowski took a poor penalty in the 77th and Kobel (unfooled by the stutter step) nearly touched it away. It any event, the 2-1 came.
Rose, already cautioned, needed to keep calm. The second booking did come after a warning. Rose just couldn't contain himself. Their trainer's dismissal naturally made no difference to the BVB prospects in this one. Of all the assistant coaches capable of filling in on the sidelines during a match, Dortmund have arguably the best one in the Bundesliga.
Rene Maric, the founder of the awesome German tactics blog Spielverlagerung, assumed control.
Match Flow: 79th to 88th minute
We finally got back to open play in the 80th. By this time, thanks to all the interruptions, a flock of pigeons decided to settle in on the Signal Iduna pitch. No joke. Check it out on the re-watch. Haaland surged forward on the first play, but no one came with him. Coman sent the pigeons scattering with a nice burst through in the 81st and his deflected cross missed the goal only by a hair. Hummels narrowly avoided scoring on an own-goal on the deflection.
The sight of Nico Schulz and Steffen Tigges coming on for Guerreiro and Haaland in the 82nd didn't inspire confidence. This brings us straight back to the BVB problem of squad balance and starting injured players. It's a small miracle Haaland and Guerreiro made it as long as they did. Schulz, as noted above, is in the absolute worst form of his life. It showed.
Dortmund cycled out decently from the left in the 84th and earned a free kick. Bellingham headed the Reus service over in the 85th. It mattered not as the young Englishman was well offside anyway. Bellingham let his frustrations get the better of him and was correctly booked for knocking Neuer over in the 86th. Hummels tried, but ultimately didn't have enough power left to reach Tigges with a long ball in the 87th.
Lewandowski also got a deserved booking for laying into Bellingham in the 87th. There would be no protests from the Pole, who did apologize. Nagelsmann executed his final substitution in the very same minute. Tanguy Nianzou came on Coman and those of us watching the overhead waited for the final FCB shape.
Match Flow: 88th minute to full-time
With apologies to the BVB faithful, it was once again spot on tactics for Naglesmann. We knew that we would get a prolonged period of extra time. The FCB gaffer put his team in precisely the right protective setup.
Lineup—Bayern München—88th minute (3-5-2)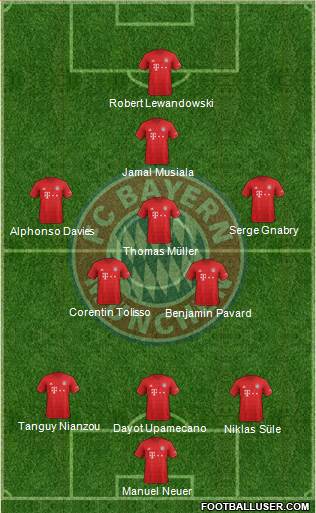 Now was the time to play it safe with a back-three. It would need to hold for an intense full ten minutes of added extra time. Several intense midfield duels as we headed into the final minute of normal time left one worried that we might not escape this match without another bad injury. Thankfully, we didn't get one.
Schulz proved inadequate on builds at 90+1 and 90+2. Bayern were, in fact, the team pressing back at 90+3. There was at last some more BVB danger at 90+4 when Wolf crossed in and Malen attempted the sensational bicycle finish. Dortmund were falsely denied a corner when the linesman missed Upamecano's touch out.
Upamecano himself would see yellow for a hard tactical foul after the skipper nutmegged him at 90+5. The ensuing free-kick at 90+6 left much to be desired. Neuer collected Meunier's lob easily. Maric left his technical area to order everybody up. Hummels played at striker. A fantastic strip of Müller at 90+6 nearly led to the equalizer, but Upamecano tackled away legally this time.
Bayern milked the clock a bit after being awarded a free-kick at 90+7. There was still plenty of time for the hosts to steal a point. Malen and Meunier both got deflected efforts in during the very same minute at 90+8. Unfortunately, a non-shot from low-confidence Schulz at 90+9 robbed the BVB of their best chance.
They at least earned a corner. Kobel ran all the way up to help. It was sadly Schulz again who missed the shot. The Bayern counter rolled through Tolisso, who somehow missed the empty net at 90+10. That would be the last piece of meaningful piece of action in a match that should have ended 4-2.
Once more, the final xG stats:
xG Bayern–2.7, xG Dortmund–1.0
What else can one say really? The stronger, deeper, and more tactically coherent team won. It is the opinion of this column that many of the so-called officiating controversies were overblown. It's also the opinion of this column that, once everyone calms down a bit a distances themselves from those wonderfully precious emotions that (after all) make football great, there will be some more consensus to this effect.
People are reasonably distraught about the ramifications for the title race, but even there there's good news. A far from full strength Dortmund squad stood toe-to-toe with the German giants for vast stretches of this match. We have a break coming up. Injuries will clear and there shall be at least some intrigue during the "Rück-runde".
Guess what else? That removal of SC Freiburg from the title race we conceded two columns back is cancelled. Cancelled. Done. This writer is prepared to back the Breisgauer once again! It's in print and published. Out there for all to see. An "old school" Bundesliga title race remains within reach. Call it crazy if you must, but we'll see how crazy it looks in a few months time.
Thanks so much for reading! You can occasionally catch Peter goofing off while watching the lower German football divisions on twitter, @ViceytheSS.
Twitter DMs are open for football conversations, corrections, and (if you truly insist) general abuse. 
All columns debut on Bulinews before appearing on Peter's website later in the week.